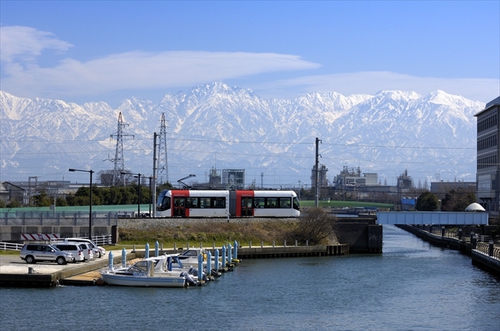 Copyright Toyama City All Rights Reserved.
Toyama City in Toyama Prefecture is one of the largest cities in Japan and located in Japan's northern Hokuriku region. The city is promoting its Toyama Compact City Strategy, expecting changing social needs in light of low birth rates and an aging population. The main pillar in creating a compact city centered on public transportation is a light-rail transit system with lower-floored cars, barrier-free station platforms, and less noise. Measures including discounted fares for users of public transportation, and free admission to public facilities for elderly people when visiting with their grandchildren will hopefully encourage elderly people to go out more, and vitalize shopping areas in the city center.
As a result of compact city efforts made thus far, the percentage of residents living in the city center has increased to about 32 percent in 2013 from about 28 percent in 2005. Aiming for 42 percent in 2025, the city is striving to reverse the trend of the population dispersing from the city center to the suburbs by subsidizing housing construction within a 500-meter radius of stations, in addition to other measures. The compact city strategy also helps to cut costs by streamlining water and sewage services relating to the extension of city roads, and reduce administrative costs caused by suburbanization. These measures are being developed in consideration of residents 30 years from now, when the population has aged further.
Toyama City's initiatives include: the Kadokawa Independent Living Center, which operates with a policy of keeping elderly people healthy and preventing illness and the need for nursing care; community gardens for growing flowers and vegetables and providing opportunities for children and elderly people to interact; and a free rental service of wheeled walkers.
In the spring of 2014, a vegetable-growing facility and a small hydropower generation system utilizing the flow of an irrigation canal will start operation. The system uses less space by stacking two small-diameter waterwheels vertically, can be installed in one day, and better preserves the local landscape. The system also has potential to be utilized in sightseeing areas in other countries including those in Southeast Asia.