JFS Newsletter No.136 (December 2013)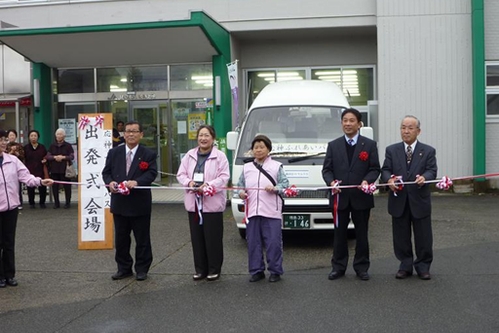 "Fureai Bus" in Oujin district, Tokushima City
Bus service launched by local residents' positive action
Copyright Tokushima City All Rights Reserved.
One of the problems emerging from Japan's decreasing population and aging society is the need to secure local public transport systems. Resident groups and non-profit organizations (NPO) have started to tackle this problem, and some even manage and operate such services, mainly buses.
An expert on this issue, Hirokazu Kato, associate professor of the Graduate School of Environmental Studies, Nagoya University, notes, "As there is no set definition of what constitutes a local public transport service, it is difficult to count the actual number. Even so, it is estimated that this initiative has spread to nearly a hundred municipalities in Japan." In this article, we introduce the challenges in securing local public transport systems in Japan and some examples of citizen-led projects, based on studies by Kato and by Kiyoshi Shinriki, Associate Dean of the Community Liaison Center, Kyushu International University.
For a long time, Japan imposed restrictions on the supply of transport services, for example by regulating the entry of new providers, which resulted in centralized transport business management by monopolistic transport service providers in each area. Public transport service networks including unprofitable service areas used to be maintained by cross-subsidization, which compensates losses in unprofitable areas by revenues from profitable areas under full-cost pricing systems approved by the national government, a system for setting fare prices to secure sufficient revenue to operate the entire service network.
As the use of the automobile continues to become more dominant, the number of people using public transport, including local buses and trains, has been decreasing since the 1970s. In 2002, the government abolished restrictions on transport supply for bus services operating on set routes, and public transport services diversified into profitable areas. On the other hand, this trapped areas with decreasing and aging populations into a downward spiral in which it is difficult to maintain lifeline transport because these services are being abandoned on unprofitable routes.
In response, the Road Transportation Act was amended, with the amendments coming into force in 2006. The amended law identifies different modes of public transport such as community buses, shared taxis and municipal buses that can be operated as fare-paying transport services although offered by NPO volunteers. This amendment has helped make it easier to develop resident-led public transportation that flexibly reflects local needs.
Kato has categorized resident-led local public transport services into three patterns depending on the levels of residents' independence and involvement by municipalities, as follows; 1) autonomic operations by residents, 2) organization-supported operations, and 3) municipality- supported operations. Let's take a look at examples in each category.
(1) An example of autonomic services by residents "Daigo Community Bus," launched in February 2004 serving Fushimi Ward, Kyoto City, Kyoto Prefecture
This community bus is operated by a citizens' group. Its operational costs are covered by fares, cooperation money provided by partner groups, and advertisement, initially without any government subsidy. In October 2006, the city started to provide free transportation passes to elderly citizens, thus fares for elderly people are covered by Kyoto City. The citizen group has been very active and secured a lot of partner organizations. The routes go through populated areas and the service is going very well.
(2) An example of an organization-supported operation "Seikatsu Bus Yokkaichi," launched in November 2002 serving the Hazu-Ikaruga Area in Yokkaichi City, Mie Prefecture
The city decided to abandon community bus service in the Hazu-Ikaruga area, and had no intention of giving public support to continue the service. Thus, volunteers in the area began to collect donations from nearby hospitals, clinics and supermarkets to launch a new service. The fund-raising action led to the establishment of a steering committee consisting of volunteer residents, participating companies, the city's transport officials and bus operators, and a test run of free bus service was conducted.
Eventually, the city established a new subsidy system and decided to give grants to the committee. In April 2003, an NPO, Seikatsu Bus Yokkaichi, was established with the aim of providing bus service and started fare-paying service. This was the first time such service was provided by an NPO in Japan. The service itself is independent, but it is operated mainly by the existing route bus service operator with cooperation and subsidies from the city.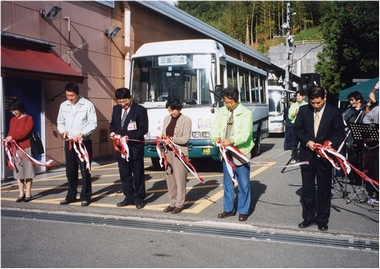 Seikatsu Bus Yokkaichi
Copyright Hirokazu Kato All Rights Reserved.
(3) An example of municipality-supported operation "Takaoka Fureai Bus," launched in September 2000 serving Toyota City, Aichi Prefecture
The route bus service in the Takaoka area had always been marginal, and the local residents' association had been trying to improve public transportation for about 10 years, but the situation did not change. In a show of cooperation, Toyota City suggested that it might provide subsidies on the condition that local residents establish a steering committee and secure a reasonable proportion of expenses by recruiting members and charging a membership fee. Taking up this suggestion, a steering committee was established and a membership-based bus service started when the existing route bus service was cut back. Later, as it became more difficult to recruit members, the committee changed the system so that it would be open to everyone, not just members, and reorganized bus routes. At present, this bus service is still being maintained in the area as one of its important means of mobility.
Toyota City then introduced this system to other areas in the city, and they all adopted the same structure with a self-organized service operating within the limits of the given subsidy. By adopting a consortium system of operators, the city has given small-size operators in the area the opportunity to provide bus service, as long as it is part of an area-led public transportation system.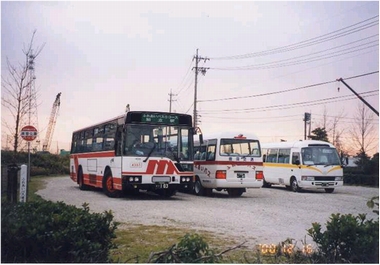 Takaoka Fureai Bus
Copyright Hirokazu Kato All Rights Reserved.
The first and second examples both have weak operational foundations. There have been similar cases in which the service was forced to shut down a short time after the start-up struggle. Many local governments are also facing difficulties in maintaining community bus services due to running costs increasing year after year. In such cases, local governments have called on residents to participate in the planning and operation of bus services, and further asked them, in some cases, to take a central role. Here is one example of such a proactive service, the Odekake Transport Project, in Kitakyushu City.
The Odekake transport project is a service that runs micro-buses or large-size taxis with the cooperation of local residents, the transport operator, and the local government, each of which is taking part on the condition that the service turns a profit. The purpose of this project is to secure transportation for residents in areas where the bus service has shut down, in upland areas with no bus services, or in areas where the aging rate of residents is higher than average.
To support the efforts undertaken by the community and the transport operator, the city promotes coordination among related administrative offices including the transportation bureau and existing transport operators. It also provides subsidies for purchasing vehicles as well as part of the expenses needed for public transport. Grants are given in the following four categories: 1) Up to 4.6 million yen (about U.S.$47,000) for the initial expense of launching a public transport service; 2) Up to 3 million yen (about U.S.$30,600) for the expense of renewing vehicles; 3) Partial coverage of deficits to support services operating at a loss with a view to maintaining the service; and 4) Partial coverage of deficits to help pilot projects being operated at a loss by communities.
The Odekake Transport Project is being carried out in seven areas of the city. However, due to problems with economic feasibility, six of these areas, with the exception of Edamitsu, have to depend on these subsidies from the local government to sustain operations.
Edamitsu area is located in the city's Yahata Higashi Ward, which was originally developed along with the establishment of government-managed steelworks in 1901. Thus, Edamitsu is one of the oldest communities in the area built before ordinary households began to own automobiles. Residential roads are narrow and most houses do not have a garage. With many narrow streets and steep hills, as well as an aging population, securing transportation was a big task for residents of this area.
The system devised for this area is the Edamitsu Yamasaka Shared Large-size Taxi. This shared taxi service is provided by Hikari Taxi Co. under the management of a steering committee consisting of residents' associations and retailers. Using 9-seater to 15-seater taxis, a total of 62 service runs a day are offered on weekdays along four routes. The fare is 150 yen (about U.S.$1.50) per ride per person.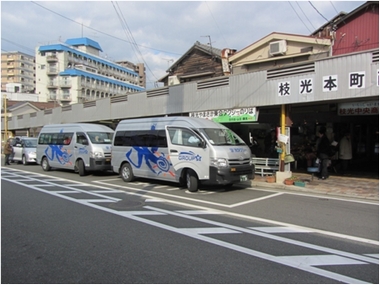 Edamitsu Yamasaka Shared Large-size Taxi
Copyright Masayuki Fukumoto All Rights Reserved.
Hikari Taxi started this shared taxi service as an event to celebrate the 50th anniversary of its establishment. On its website, conversations between passengers and taxi drivers are posted, for example: "I bought too many tomatoes. Why don't you take half of them?" "I don't think I've seen you before. Oh, you're a substitute driver, aren't you? I think you're a pretty good driver, but you'd better learn the ropes from your senior colleague. He's a veteran." These are examples of pleasant communication in the taxi, which provides an opportunity for people to enjoy conversation and get to know each other.
The aim of this kind of community transport project is to improve the convenience of residents' daily life and to secure transportation from residential areas to downtown urban areas. From this point of view, Shinriki conducted research on the transition of wholesale and retail trade in Yahata Higashi Ward and the Edamitsu area to compare their sales. He concluded that the research results supported an evaluation of success for the shared taxi project in Edamitsu, citing the following points:
In the Edamitsu area, the trend in annual retail sales does not show an apparent decrease, unlike its declining trend in population numbers.
The opening of a large shopping center in the neighboring area of Higashida in 2006 did not cause a significant decrease in annual retail sales in Edamitsu.
In the Edamitsu Honmachi Shopping Arcade, two new shops opened in fiscal 2010, and another two opened in fiscal 2011.
Kato says, "In citizen-led community transport projects, residents themselves engage in various activities, such as organizing send-offs or anniversary events, creating and distributing pamphlets, visiting companies to solicit support, and installing bus stops and shelters. One result is that these community transportation projects have been evolving into new movements for regional revitalization in many areas."
At the same time, there are various types of citizens in a community. Although some residents such as elderly people would like to have a public transportation system, the people able to lead a community transport project with coordinating, fund-raising, organizing and leadership skills may not exist among those who are longing for the service. Therefore, local governments can play an indispensable role as a bridge to support people unable to lead themselves.
Though there have been many problems and failures, people will keep trying to secure a means of transportation to support their daily life in depopulating and aging communities throughout Japan.

Written by Junko Edahiro