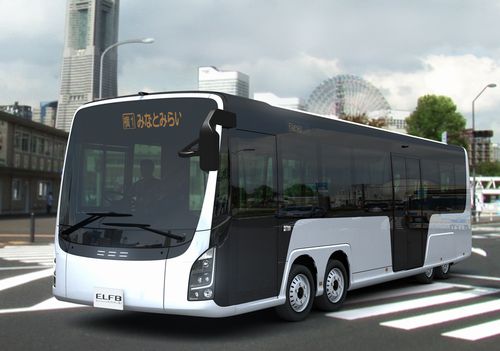 Copyright Isuzu Motors Ltd.

Kanagawa Prefecture announced a body design for an electric bus with a low, full flat floor on October 26, 2010. Kanagawa has been conducting a verification study with Keio University and Isuzu Motors Ltd. to formulate and systemize a community-led business model that promotes operation of the new bus.
The concept vehicle applies technologies such as an integrated platform structure and the new type of battery used in the electric car "Eliica," which was developed by Professor Hiroshi Shimizu at Keio University. The team aims to design a prototype with low, full flat floor with comparable or improved performance and fuel economy when compared to existing diesel buses.
The body design revealed by Isuzu is sophisticated and practical for future route buses and was made to suit the surrounding landscapes. The concept vehicle was completed in 2010 and test-driven on public roads.
Kanagawa Prefecture also announced plans to launch a consortium among government, industry and academia to develop a second-generation concept vehicle with the aim of further developing and improving practical technology for the full-scale promotion of electric buses. The consortium will be joined by Keio, Isuzu, Toshiba Corporation, JFE Engineering Corporation and other organizations. Members will hold preparatory meetings and discuss ways to encourage the government for necessary aids and support, and to make plans for increasing the number of organizations joining the consortium.
Posted: 2011/02/25 06:00:15 AM