JFS Newsletter No.167 (July 2016)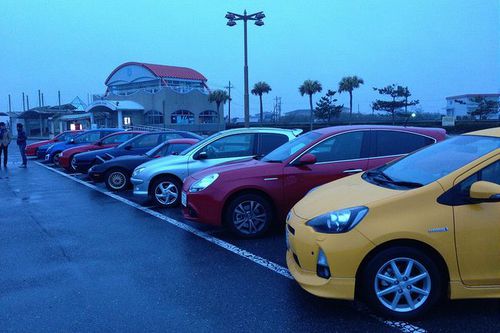 Image by cage.okada Some Rights Reserved.
Cars are a necessity of life for people who live outside of major cities. At the same time, however, they cause various problems for society, including environmental impacts and traffic accidents. In Yamagata Prefecture in northern Japan, Hiroki Sugawara, Senior Managing Officer at Yamagata Automobile Recycle Center Co., has dedicated himself to dealing with the societal impacts of automobiles, and has been active as a problem-solver for many years, since the days when he worked for an automobile dealer. He has succeeded in getting governments involved and has launched projects in which the entire automobile sales industry in his prefecture is working together to tackle its responsibilities to society.
"Interviews with 100 Japanese Social Entrepreneurs" is a series of interactive lectures that provide social entrepreneurs with opportunities to learn from their forerunners. The lectures have been held approximately once a month since June 2012 by the Social Business Network (SBN), which aims to create a new society through social business. This JFS article introduces an interview with Hiroki Sugawara in October 2015.
Creating Partnerships to Prevent Automobiles from Being Bad for Society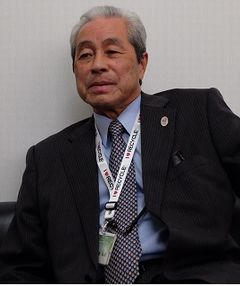 Mr. Hiroki Sugawara
Copyright Social Business Network All Rights Reserved.
Cars are a necessity of life in Yamagata Prefecture. About 30 years ago, at the height of the Japan's economic bubble, I was working for an automobile sales dealership in Yonezawa City.
At that time, frequent car accidents became a serious social problem. This situation was often likened to a traffic war or traffic hell. Every time a tragic accident occurred, consumer groups and women's groups raised their voices in protest of the situation. As a person engaging in automobile sales every day, I was at a loss what to do. I had the idea of conducting a traffic safety campaign to create a society free of traffic accidents, and mentioned this idea to a friend who worked for the Yamagata Prefectural Police Department. He backed me up, saying, "It is a good idea, so it should be done not only in Yonezawa, but all across Yamagata Prefecture."
Then, with the cooperation of the Yamagata Prefectural Police Department and the Japan Automobile Dealers Association Yamagata Branch (abbreviated for this article as JADAYB), the managers of dealerships of all Japan's car manufacturers' gathered at a hotel in Yamagata City and established an organization aiming to prevent traffic accidents and realize a safe and secure society. It was named the Yamagata Prefecture Automobile Dealers Traffic Safety Council. This attempt was expanded nationwide the following year, and the Japan Automobile Dealers Association Traffic Safety Council was established. Now, each region in the country is promoting traffic safety measures in its own way.
The Kyoto Protocol was adopted at the third Session of the Conference of the Parties to the United Nations Framework Convention on Climate Change (COP3), held in 1997 in Kyoto. I was shocked to learn that approximately 20 percent of Japan's carbon dioxide (CO2) emissions were from the transportation sector, which includes automobiles. Car emissions can be reduced if users change their ways of driving. Maintaining a safe distance between cars to avoid hard braking is a more efficient way to drive and also leads to better safety. Therefore, I believed that continuing with the same types of activities as were doing traffic safety campaigns could also help combat global warming.
Economic activities and environmental conservation can be mutually compatible. Conversely, if they are not compatible with each other, they will not last long. If users drive more safely, they cause fewer traffic accidents, and as a result their car insurance premiums will decline. If users drive in the ways that reduce vehicle emissions, they can also save money on gas purchases. At that time, the marketing of low-emission vehicles, or eco-cars, was beginning. JADAYB started promoting these vehicles, in cooperation with the prefectural government. JADAYB organized an exhibition to display low-emission cars from car manufacturers and dealers at a parking lot belonging to the prefectural government. It did produce some negative comments. For example, some people challenged the idea of the prefectural government allowing a private organization to use a public parking lot. But prefectural officials positively supported the event, since the government and the dealers' organization shared the common goal of fighting climate change.
Since then, JADAYB has been cooperating with the government for more than ten years. These environmental efforts through enduring cooperation between the government and an industry group attracted some attention since they were rather unique in the world. The JADAYB / Yamagata Automobile Pubic Service Center was invited, together with other two Japanese organizations, to present our activities at the EcoDrive Conference in October 2014 at the United Nations Headquarters (New York). As a person who sold cars as part of my career, I do not want to try to justify the negative social impacts of car. And I have found that whether trying to resolve an environmental problem or promoting traffic safety, the government will back you up if you put an effort into discussing things and understanding each other.
Establishing the "Environmental Meister" Certification System in Yamagata
Since automobile dealers generally did not have sufficient knowledge of global warming at that time, JADAYB wanted to educate more than 3,000 automobile sales staff in Yamagata Prefecture, so we applied in 2005 for funding from the Project to Promote Pioneering Resource Saving and Energy Saving Activities, sponsored by the Cabinet Office of Japan. Although JADAYB was runner-up and its project was not adopted, this afforded me an opportunity to learn about a nonprofit organization named the Citizens Environmental Foundation (based in Kyoto Prefecture).
Aiming to spread eco-friendly purchasing (green purchasing), the CEF was working to increase the number of sales staff who can provide consumers with proper information on eco-friendly products. To this end, CEF, in cooperation with groups such as JADAYB, the Yamagata Sash-Glass Cooperative Society, and electrical home appliance sales associations , started a system in Yamagata Prefecture in which sales staff who have acquired knowledge and passed a test about topics such as global warming prevention, energy saving, and green purchasing, can be certified as an "Environmental Meister." (Meister is German for "master," and is a sign of knowledge and proficiency in something.)
A person certified as an Environmental Meister in auto sales is someone who can adequately explain how eco cars and eco driving can be economical. In doing so, they communicate to customers about benefits in terms of both global warming mitigation and the money saving, and can also contribute to a decrease in the number of traffic accidents. Moreover, since the certification can give new confidence to sales staff, motivation in the dealerships will be higher. In this way, as the number of Environmental Meisters increases, the status of the entire automobile sales industry improves as a result.
The following year, we applied to the same funding program. With the funds, we launched a radio program, "YBC Yamagata Driving Eco," to share what we had learned and spread the word about eco and safe driving. To date, the program has continued for over a decade.
Yamagata Prefecture now has more than 900 Environmental Meisters . Over the past decade, they have conducted a total of 750 activities to raise public awareness of eco and safe driving. This year, we launched the Kids Eco Driving Promotion Program to provide fifth-grade elementary school students with early education on global warming, as well as on eco and safe driving as measures against global warming. Kids who complete the program will receive a special "Kids' License." With that, they are happy to let their parents know then they notice environment- unfriendly driving from the viewpoint of children. This program aims to change society by involving children.
Programs for the Proper Handling of End-of-Life Cars
Approximately 3.6 million automobiles are scrapped every year in Japan. Other than metals like iron and aluminum, parts from these automobiles were typically discarded instead of being recycled, which occasionally causes illegal dumping. To address this problem, Japan's Act on Recycling etc. of End-of-life Vehicles (known as the Automobile Recycling Act) entered into force in 2005. However, just before the legislation went into effect, Yamagata Prefecture experienced its largest illegal dumping incident in its history. A waste disposal company went bankrupt and had illegally dumped 6,000 old automobiles in the mountains. To remove them, we had to contact the former owner of each and every automobile. Our dealership was aware that we too were partly responsible for the situation, as the customers had entrusted their old cars with us when they traded them in to make a new purchase.
At the time, there were four car disposal and scrap companies in 54 locations in the prefecture. Hoping to prevent any reoccurrence of illegal dumping, we approached the companies numerous times, asking that they set up an organization to take joint responsibility as an industry in the event any one of them went bankrupt. Unfortunately, those attempts did not succeed, so we felt there was no choice but to launch a scrap business ourselves, based on the consensus of all automobile manufacturers' dealers in the prefecture.
Our concept is to have this be a system that is responsible for things to be done right, from the sale of a new car to the proper disposal of the end-of-life car. To launch the scrap operation, we first set up a review committee and a preparatory committee. Since I served at that time as executive director at the Yamagata branch of the Japan Automobile Dealers Association, as a person in charge of administrative affairs, I used a new approach to create a spinoff named the Automobile Sales Agent House Co. as a new holding company. It then took over the former Hokubu Industry Co. (with ten employees), which had been run by Yamagata Nissan Motor Co. But for the expected scale of operations, we still needed to make an investment of 300 million yen (U.S.$2.86 million), just for plant and equipment. Through negotiations with a bank, we obtained a loan for this. We have already repaid that first loan, and are now repaying a loan we made for additional investments, including the Shonai office.
In 2011, we began a car parts export business, and have since been expanding a partnership to distribute recycled parts to destinations such as the Near and Middle East, Tanzania, and the United Arab Emirates, via Malaysia and Dubai. In recent years, through our work with other countries, I get the strong sense that the Japanese no longer take good care of material things. In Tanzania, people lead a simple life while sharing what little they have with each other. Meanwhile, Southeast Asian countries are starting to overflow with material things, and I feel this situation is similar to Japan's postwar years of rapid economic growth.
Japan can have an impact on the world, and that's why we want to convey to other countries the principles of the 3Rs (recycle, reuse, and reduce), plus "respect" for material things. Based on these ideas, at our shops we display products made from recycled seatbelts and air-bags. We produced a recycled bag with help from a young designer, as a new product to commemorate the tenth anniversary of start of our operations. The bag has been a popular item. It has also been my longtime wish to create new jobs and produce recycled products in Yamagata. So that other countries do not have to repeat Japan's past 20 or 30 years of experience with waste-related issues, I believe we must also show our recycling technologies to other countries.
We are now working to convert used tires into a resource for space heating in agriculture. We are also conducting trials using headlights as lamps for hydroponics, and batteries to store electricity generated by solar panels. Energy conservation and eco and safe driving come with economic incentives, but now, the challenging issue is recycling. We, as part of the automobile sales industry, hope that car manufacturers will consider producing vehicles whose entire lifecycle, including the end-of-life stage, is friendly to the environment.
This article is translated from Japanese in the website of Social Business Network:
"Interviews with 100 Japanese social entrepreneurs: Learning from the business models of veteran social entrepreneurs"
http://socialbusiness-net.com/contents/news4873