JFS Newsletter No.79 (March 2009)
In the last issue of our JFS Newsletter, we introduced the six Eco-Model Cities selected by the Japanese government in July 2008: Yokohama (Kanagawa), Kitakyushu (Fukuoka), Toyama City (Toyama), Obihiro (Hokkaido), Shimokawa (Hokkaido), and Minamata (Kumamoto). In this issue, we present some of the specific actions being taken by three of these municipalities, based on their presentations at the International Seminar on Promoting the Eco-Model Cities for the Low Carbon Society, on December 14, 2008: Yokohama City from the big-city category, Toyama City from the provincial-capital category, and Shimokawa from the small-town category.
International Seminar on Promoting the Eco-Model Cities for the Low Carbon Society 2008
http://www.kantei.go.jp/jp/singi/tiiki/kankyo/seminar2008/index.html
--------------------------
Yokohama's Initiatives: Achieving a City-wide Zero-carbon Lifestyle by Utilizing the Strengths of its Residents -- Presentation by Shuichi Abe, Deputy Mayor of Yokohama
http://www.kantei.go.jp/jp/singi/tiiki/kankyo/seminar2008/
10yokohama.english.pdf
With a population of about 3.65 million, Yokohama is Japan's second most populous city after Tokyo. Because Tokyo comprises a unique official category of municipalities, Yokohama is the most populous city in its category, with about a million more residents than, for example, Osaka or Nagoya. Yokohama has been working on environmental issues in various ways. In particular, it had a problem of wastes increasing at a rate greater than population growth rates. It set a target of reducing wastes 30 percent by fiscal 2010 compared with the 2001 levels, and called for city-wide commitments; from residents to thoroughly sort waste, from businesses to collect and recycle used products, and from city government departments to create systems for 3R (reduce, reuse and recycle) initiatives and raise public awareness.
Yokohama achieved its goal of a 30 percent reduction by 2006, 4 years before its target, and a reduction of almost 40 percent was achieved by 2007. As a result, Yokohama was able to close two waste incinerators, which allowed them to avoid future incinerator renovation costs of 110 billion yen (about U.S.$1.2 billion) and annual running costs of three billion yen (about U.S.$33.3 million). This is a successful example of achieving both environmental protection and economic benefit through the cooperation of residents, businesses and local government.
In March 2007, the city launched a wind power generation model project in Yokohama harbor in collaboration with residents and businesses. The city raised funds for wind turbine construction by issuing city bonds for purchase by residents; funds to redeem the bonds came from contributions by local companies supporting the project and sales of electricity generated. The approximately 300 million yen (U.S.$3.3 million) worth of bonds issued by the city were sold out in only three days, attesting to keen citizen interest. Companies operating in Yokohama annually provide a total of 45 million yen (U.S.$500,000) in support, some of which is used to hold special tours of the turbine to help residents broaden their understanding of the project.
Yokohama's carbon dioxide (CO2) emissions have increased since 1990, and although its population has also increased 11 percent since 1990, per capita CO2 emissions have also been increasing. Thus, the city set up the Yokohama Action Plan to Stop Global Warming (CD-DO30) in January 2008 with the aim of contributing to CO2 emission reduction. The goal is to reduce per capita greenhouse gas emissions by over 30 percent by 2025 compared to the 2004 level. This plan is now underway, led by the Climate Change Policy Headquarters directly under the mayor.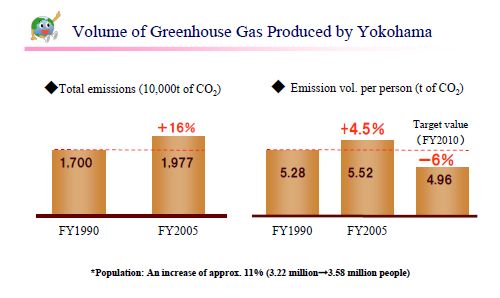 Source: Cabinet Secretariat

As one of the projects under this initiative, the city set up and adopted the Comprehensive Assessment System for Building Environmental Efficiency in Yokohama (CASBEE Yokohama) for mid-sized buildings in the city, and has been working on mandatory disclosure of information on the environmental performance of condominiums and other buildings in advertisements, etc. In cooperation with local communities and residents' associations, the city has also tried to implement detailed measures such as promoting visualization of energy-saving actions, for example by using "energy navigation" devices, which convert household electricity use into rates charged in real time to facilitate comparisons of target and actual electricity use in money terms.
Other projects include its Zero-emission Transportation Project, in which the city promotes low pollution/low fuel consumption vehicles, public transportation and bicycles, as well as a joint study with Nagano Prefecture and Doshi Village in Yamanashi Prefecture, which provides water to Yokohama, that aims to build a model of cooperation and partnership between cities and rural areas.
One of the challenges to achieving a city-wide zero-carbon lifestyle in such a heavily populated city is the need to establish a system that involves residents while promoting their understanding of the city's policy direction. Another challenge that must be met in order to carry Yokohama's various projects up to the next level is the need to advocate improvements and changes in existing government policy; at the national level, this would mean more allocation of authority to local governments and swifter response mechanisms to deal with newly-developed technologies and systems. Yokohama City will work on these challenges and hopes to gain the understanding of the national government and relevant ministries and agencies.
--------------------------
The CO2 Reduction Plan Provided by the Toyama Compact City Strategy -- Presented by Masashi Mori, Mayor of Toyama City
http://www.kantei.go.jp/jp/singi/tiiki/kankyo/seminar2008/12toyama.english.pdf
Toyama City has an area of about 1,240 square kilometers; 70 percent is comprised of mountainous forests and the rest is flat land. Development of this flat area over the past 40 years has been scattered, resulting in urban sprawl - a low population density all over the area. The city has second largest proportion of car owners per capita in Japan, almost one car per person, and citizens' lifestyles are significantly dependent on the automobile. This presentation introduces the transportation measures proposed in the Toyama Compact City Strategy.
As a result of urban sprawl, the city experienced a drastic decline in the number of public transportation users from 1990 to 2006. In particular, the number of shuttle bus users decreased as much as 67 percent, which resulted in cutbacks both in bus routes and in the frequency of service on the remaining routes. At the same time, ownership of ordinary passenger cars grew 1.4 times and of compact cars 6.5 times compared to the 1990 level. From the viewpoint of CO2 emissions, Toyama City would be regarded as an unfavorably large emitter.
According to an analysis of transportation use in the city, 72.2 percent of the city's population use cars for general purposes, and about 84 percent to commute. Some couples that work in the city government, for example, drive to the same office individually in separate cars. To change this kind of lifestyle and behavior, restoring public transportation was clearly essential.
Dispersive city development also causes substantial increases in administrative costs for the city government due to the expansion of areas requiring snow removal, garbage collection, etc., which in turn emits more CO2. Thus, curbing urban sprawl became the city's highest priority task. Therefore, Toyama City decided to take action to effect a shift from a society dependent on cars alone to one where people use both automobiles and public transportation.
Toyama City already had a well-developed railway network and convenient shuttle bus routes all over the city, with Toyama Station functioning as a hub connecting all the city's public transport services. The city established a 20-year urban development plan that aims to make good use of this existing system to enhance public transportation services and encourage people to move to areas with better public transport by making the city center more attractive.
Toyama's urban development plan aims at rejuvenating public transport and gradually inducing people to live closer to areas concentrated around convenient public transportation access points. As public transportation routes radiate outward from Toyama Station, the city's initial investments aim to strengthen these transportation systems.

At the same time, the city is providing subsidies for building new houses within 500 meters of train stations or 300 meters from bus stops: The buyer receives 500,000 yen (about U.S.$5,600) and the construction contractor receives one million yen (about U.S.$11,100) per house. At present, 28 percent of Toyama's population lives in such areas, and Toyama aims to increase this to 42 percent over the next 20 years.
The city's very first attempt to deal with the issue was to introduce a light rail transit (LRT) system by taking over an unprofitable railway line being operated by West Japan Railway Co. (JR-West), and laying some light rail lines in existing road lanes. In the two years since the inauguration of this service, operated by Toyama Light Rail Co., the number of passengers has increased 2.5 times compared to the time when the service was operated by JR-West. About 23 to 24 percent of new users shifted to using the LRT rather than commuting by private car or bus.
LRT Revitalizes Urban Area of Toyama City, Japan
http://www.japanfs.org/en/pages/026545.html
The Rebirth of Trams: The Promise of Light Railway Transit (LRT)
http://www.japanfs.org/en/mailmagazine/newsletter/pages/027840.html
The next step, a project to extend another tram line, operated by Toyama Chihou Tetsudou Inc., is now underway, aiming for completion in December 2009. In this project, the city plans to build a loop tram line in the city center while intentionally concentrating public facilities, such as a library, rental housing for elderly people, etc. around the looped area through an intensive investment program. It also intends to progressively improve the accessibility of the entire public transportation network to the loop line.
During a three-day campaign for free rides on the Toyama Light Rail in 2008, the number of passengers rose to 11.5 times more than normal. The campaign showed that even people who normally depend on cars would be likely to use public transport if the tram and LRT services were convenient and available at lower fares. The issues now remaining are how the city can promote these public transportation systems and to what extent the city can bear the cost of reducing fares.
--------------------------
Eco-Model City: Shimokawa Town, Hokkaido --Presented by Tamotsu Anzai, Mayor of Shimokawa Town
http://www.kantei.go.jp/jp/singi/tiiki/kankyo/seminar2008/08shimokawa.english.pdf
Shimokawa is a rural town with a population of 3,850 located in the northern part of Hokkaido. Its land area is 64,420 hectares or 644.2 square kilometers, almost equal in area to Tokyo's 23 wards, although about 90 percent of Shimokawa's land is forested. Agriculture and forestry are its key industries, and the town administration has been focused on the issue of how to revitalize its forest industry and utilize its forest resources. As the Kyoto Protocol also clearly refers to the role of forests in slowing down the progress of global warming, recognition of the importance of forests has been growing worldwide.
One of the pillars of Shimokawa's efforts as an Eco-Model City is sustainable renewable forest management that requires policies with a long-range outlook. Based on its adopted principles, the town has been promoting forest maintenance that does not deplete the resource. In its utilization of forest resources, the town's forest union is working on zero emission manufacturing. The union produces various products from small trees thinned from plantation forests and other wood sources. In addition to laminated wood and charcoal, it completely uses all byproducts such as sawdust, leaves and branches - even smoke emitted in the process of charcoal-making is used to produce wood vinegar liquid, used in organic farming and also in home deodorant products.
In 2003, Shimokawa became the first town in Hokkaido to obtain certification from the Forest Stewardship Council (FSC), a certification system that promotes proper forest management. Seven enterprises in the town also received Chain-of-Custody (CoC) certification, a certification system for the management of processes and distribution, attesting to the way the town's efforts for sustainable forest management are steadily achieving results.
The town is also utilizing wood biomass as a renewable energy source, which is regarded as carbon neutral. It is now actively promoting the use of wood biomass instead of heavy oil as fuel for boilers in public facilities, and plans to install biomass boilers at additional facilities and at greenhouses for horticulture. Shimokawa has also started cultivating fast-growing willows as a non-food biofuel crop at an experimental farm.
In short, the purpose of Shimokawa's efforts as an Eco-Model City is to promote regional development through the effective use of forest resources, leading to cost reductions for the town and job creation by establishing new local industries such as wood biomass fuel production. That is, the town's approach fuses the creation of a comfortable local living environment with measures against global warming, a sure way to contribute to protection of the global environment.

--------------------------
In the next issue of our Newsletter, JFS will introduce efforts by the other three cities.
Edited by Junko Edahiro