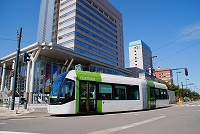 Copyright Toyama Light Rail Co., Ltd.
The passenger count of Toyama Light Rail Portram, a Light Rail Train (LRT) service that started on April 29, 2006, has exceeded initial expectations, reaching about 43,000 passengers on July 18, 2006, the mayor of Toyama announced on July 19, 2006.
The average number of weekday users climbed above 4,200, and for many passengers on weekends and holidays, the purpose of their visit to the urban area was simply to ride the LRT. The average passenger count per day more than doubled from 2,266 during its previous operation by Japan Railways.
The first friendly discussion in fiscal 2006 was held among company workers from other prefectures. There was much positive feedback, such as "The atmosphere of the streets has changed drastically, and it has become very pleasant to spend time in the city," "Very comfortable to ride on," "Development of the area along the LRT line will be essential for revitalization of Toyama City's urban area," "Sightseeing tour packages featuring LRT are possible," "The LRT plan for Okinawa should refer to Toyama's example."
The mayor of Toyama City believes that citizen involvement is the major reason behind becoming the first city to operate an LRT service, despite starting its planning last among the many cities planning LRT services. Toyama City plans to continue building a compact city by revitalizing public transport systems.
http://www7.city.toyama.toyama.jp/english/index.html
Posted: 2006/12/29 12:23:34 PM
Japanese version