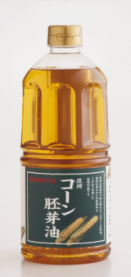 Copyright Daichi wo Mamorukai Co.
Daichi wo Mamorukai Co. (lit. "Association to Preserve the Earth"), an organic produce supplier in Japan, released in April 2012 a 910-gram non-genetically modified (non-GM) expeller-pressed corn oil priced at 768 yen (about US$9.9). As of the product's release date, the new corn oil is currently the only non-GM corn oil available in Japan. Based on the number of initial orders received, the company announced that the new corn oil has sold at twice the rate, by unit volume, of similar cooking oil products. The data suggest that the use of non-GM corn--a feature the company has done well to promote--has gained support among consumers who are sensitive to food safety.
Corn oil is made from grain corn. Being 0 percent grain corn self-sufficient, Japan is completely dependent on imports. Imports from the United States, around 80 percent of which is GM corn, account for about 89 percent of all grain corn imports to Japan. Under these circumstances, it is difficult to acquire non-GM corn as a raw material.
Daichi wo Mamorukai Co. succeeded in procuring the raw material by getting a partner oil manufacturer--one that resonated with the company's philosophy of working to preserve the earth--to separate and store the germ of non-GM corn originally imported for making corn starch for beer.
Daichi wo Mamorukai Co. has expressed opposition to the use of GM ingredients based on food safety reasons. It sells non-GM canola oil, as well as miso and soy sauce made from GM-free soybeans produced in Japan, and suggests consumers specifically choose non-GM products.
Related JFS article:
Japanese Consumer's Union Finds GM Canola Growing in Chiba Prefecture
Public Poll Shows Increased Expectation on Science and Technology to Solve Environmental Issues
[Asia for Sustainability] Leaving the City to Indulge in Farming
Social Entrepreneurship Starting with One Japanese Daikon Radish - Kazuyoshi Fujita, President of "Daichi wo Mamoru Kai"