JFS Newsletter No.102 (February 2011)
Japanese Philosophers/Leaders for Sustainability (No. 1)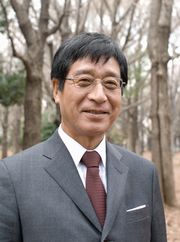 Copyright Daichi wo Mamoru Kai
People all around Japan are paying increasing attention to lifestyles that value time-honored human wisdom and spiritual richness, and are showing interest in topics such as slow life, safe food and agriculture. Many people feel that the time has come to review our present society, which has enjoyed a steadily growing economy for a long time. As a pioneer of this trend, Daichi wo Mamoru Kai (lit. "association to preserve the earth") has been delivering organic produce to customers for 35 years, helping pave the way towards a sustainable society. The group started by selling organic vegetables at an outdoor market, and as of 2010 it was delivering agricultural, livestock and marine products as well as processed goods to more than 100,000 customers.

Kazuyoshi Fujita, founder of Daichi wo Mamoru Kai and a bold challenger, was chosen by the Japanese edition of Newsweek in 2007 as one of top 100 social entrepreneurs who are changing the world. His ability to promote organic produce and his business methods, which created a model for connecting producers and consumers, are recognized as an example of social entrepreneurship that aims to solve social problems connected to agriculture, welfare, environment, poverty and peace through business practices. In April 2011, Daichi wo Mamoru Kai will officially start as a social enterprise, combining its heretofore separate nongovernmental organization and business corporation into a single unit.
Organic Farming Activist Chosen as One of the World's Top 100 Social Entrepreneurs
http://www.japanfs.org/en/pages/026864.html
In recalling the growth of his business, Fujita said that he has found it possible to keep at it for 35 years because "our food was delicious and it was fun to think of new ideas when we ran into obstacles." Now let us follow his footsteps.

After the Storm of Student Movement
He was born into a farm family in Iwate Prefecture in 1947, and was enrolled in university in the midst of the student movement. Student activism swept around the world in the 1960's and 70's, and students in Japan including Fujita threw themselves into the movement under the slogans of "No more Vietnam War" or "No Japan-US Security Treaty." After a while, this storm passed. After graduation, he got a job with a publishing company, but he was still asking himself questions about the movement: "Why did I get involved in the movement?", "What did I really want to do?", etc.
Then, he learned of the work of Hirokage Takakura, who was living in the city of Mito. Takakura studied toxic gas as an army physician during the Pacific War, and when he came back to Japan, he was astounded to find that fields around the country smelled of DDT, which had been used as a toxic gas. He started studying pesticide-free agriculture in his hometown of Mito.
During Japan's postwar period of high economic growth, every kind of product was produced in large quantities nationwide. Many young people moved from rural villages to the cities, resulting in rapid urban sprawl. Conventional agriculture was considered "out of date," and farmers were under pressure to shift to "modern" agriculture which uses pesticides and chemical fertilizers to increase efficiency and production.
When Fujita visited Mito, he heard that chemical-free vegetables didn't sell well because of insect damage. He decided to do something, and started carrying the vegetables in his truck from Mito to Tokyo on his day off, and selling them at a housing complex in Koto ward, Tokyo. This led to the establishment of the Daichi wo Mamoru Kai. As his open-air market gained popularity, he started holding it periodically. This led to the creation of the group purchasing system, where purchasers form a group and each group gathers orders for the next week from group members.

Aiming for a New Value as a Corporation
In 1976 Fujita resigned from the publishing company to work on Daichi wo Mamoru Kai full time. Fujita says that many people with a common spirit gathered and enthusiastically discussed organic produce, and how it was "food for thought," "not just produce, but material culture," and so on. From the start, Fujita has advocated "rather than shout a million times about the danger of pesticides, start to grow, transport and eat chemical-free Japanese daikon radishes." He holds this conviction to this day.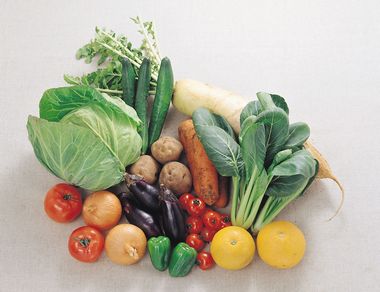 Copyright Daichi wo Mamoru Kai

In 1977 Fujita established Daichi Co. (currently Daichi wo Mamoru Kai Co.) as the distribution arm of the non-governmental organization Daichi wo Mamoru Kai. Many complained that a movement established on moral grounds had been driven to become a cash-oriented business. Fujita's strong will and sense of responsibility for supporting Japan's primary industries by involving producers and consumers as shareholders of the same company held fast, and he continued to propose a food culture that espoused new values. He originated proposals for establishing the National School Lunch Society, and for developing additive-free hams, original pasteurized milk, and other products and initiatives as part of the movement, which also expanded in the form of businesses.
Regarding imported foods such as coffee, bananas, and shrimp, Daichi wo Mamoru Kai has adopted a fair trade system which sets prices that are fair to producers. As a further step, Fujita was selected as the first chairman of the Asian People's Fund for Mutual Benefit (APF, established in 2009) that aims to create an environment where workers in primary industries in Asia can pursue their work without anxiety. The APF established a system to contribute a certain percent of profits from sales of imported food to the fund.

Being an Alternative Social Company
Since 2000, Daichi wo Mamoru Kai has expanded into various grass-roots movements. One of these is Candle Night, for which Daichi wo Mamoru Kai is the head office. (Japan for Sustainability has also joined the Candle Night movement as a partner.) Under the theme "Turn off the lights, and take it slow," the Candle Night movement has been expanding nationwide, and it was estimated that over eight million people joined in the Candle Night event on the evening of the summer solstice in 2010.
http://www.candle-night.org/en/
Daichi wo Mamoru Kai also launched the Food Mileage Campaign to help consumers to reduce their food-related carbon dioxide (CO2) emissions. "Food mileage" refers to the distance food is transported from where it is produced to where it is consumed. Since domestically-produced food uses less energy for transportation than imported food, choosing domestic food leads to a reduction in CO2 emissions. Under this campaign, Daichi wo Mamoru Kai provides quantified information on CO2 emissions from food transportation, using its original unit called the "poco," with one poco representing 100 grams of CO2 emitted. By showing the poco values in its product catalogues, the company informs its members about how much their shopping can reduce CO2 emissions.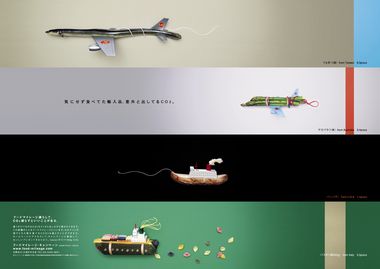 Copyright Daichi wo Mamoru Kai

Today, more and more young people in Japan feel supportive of the word "alternative," and use it to mean a new approach distinct from a conventional one. Young people nowadays hope to change the current situation quietly yet solidly, and emphatically not in a violent way such as student movements have attempted in the past.
When establishing Daichi wo Mamoru Kai, Fujita thought that a down-to- earth movement would be more suitable for him than an ideological movement; that is, he thought that he should take a bottom-up rather than a top-down approach as a way to change society. This is what they call "alternative" social change. Though he was not able to reach a satisfactory understanding of the student movement in which he fought fiercely, he has actually achieved quiet social change in a sustainable way that seeks good food and fun.
"We will continue to blaze a new social business path in a spirit of optimism, while stirring up a big vortex that will draw in many people. Our aim is to create a society with revitalized primary industries where people respect and help each other. This will help everyone live peacefully and in comfort," Fujita says at the end of his book, Yuki-nogyo de Sekai wo Kaeru (lit. "changing the world through organic farming"). JFS will be keeping an eye on Fujita's ever-evolving initiatives.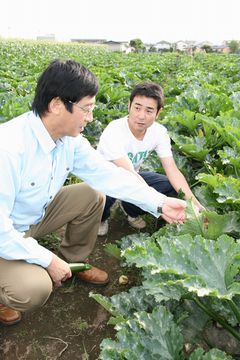 Copyright Daichi wo Mamoru Kai

Written by Taeko Ohno
* We will be occasionally issuing this series to feature Japanese people who have pursued unique activities from their own perspective, and have moreover achieved outstanding performance in the fields of environmental protection and sustainability.