Putting to work our past experience in delivering information on environmental sustainability efforts in Japan, JFS is now reaching out to other Asian countries to widen its scope to "Asia for Sustainability (AFS)." Our aim is to deliver information on the innovative environmental and sustainability initiatives taking place in other Asian countries that share the same goals as us.
With support from the Japan-China Civil Society Network, we want to share with you an article that appeared in the Social Entrepreneur Magazine and was translated into Japanese by the Network.
Japan-China Civil Society Network (Chinese)
http://csnet.asia/?lang=zh-hans
About the Social Entrepreneur Magazine
http://www.npi.org.cn/english/business_09.html

----------------------------
Leaving the City to Indulge in Farming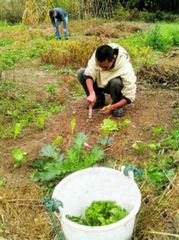 Chinese university graduates are often viewed by Japanese people as aggressive social climbers in constant pursuit of higher income and social status. But the people we will describe here have found a very different value in food, specifically agriculture, the foundation of human life. Exercising flexibility in applying their ideals, these people are working to change society. Let us now take a look at the paths they have taken.

Jia Ruiming - All for Earning Clean Money
In materialistic modern times, Jia Ruiming, a city-dweller, decided to go back to farming. Today he uses natural farming methods, growing rice and vegetables with no chemical fertilizers or pesticides. His decisions were intended not only to grow safe food, but also to question mainstream values and lifestyles in modern China.
Mother Earth has given me so much spiritual satisfaction, he says. "Life is not about winning or losing. I've discovered who I am." Some white-collar workers in Shanghai see him as a spiritual inspiration. To show how much they care about nature and ecosystems, they formed the Health-Conscious Consumption and Purchasing Group, through which they buy expensive rice and vegetables grown using natural farming methods.
Graduating from the Agricultural University of Hebei, Jia first worked for a national company in Hebei Province, then at another company for a year. Although he earned adequate income at both companies, he chose to quit when he found out that they were using bribes to improve their business results and were also involved in illegal practices. He wanted to earn clean money.
Jia first worked as a surveyor of a farming village in Shanghai with his wife, which led him to become a farmer. In 2008, he rented 4 mus of land (about 2,670 square meters) and began natural farming. He intended to take up modern agriculture at first, but realized that modern agriculture uses too much pesticides and thought farming should be a collaboration between humans and the land.
He grew wet-field rice on 2 mus of land (about 1,340 square meters). The rules he set were to leave enough space between seedlings, use no pesticides, cut weeds only when they have grown, and use residue from rape-seed oil production as fertilizer. Though neighboring farmers thought he would never succeed, he harvested 400 kilograms of rice as a result of his careful work.
In 2009, Jia rented a piece of land in Huzhou, Zhejang Province with like-minded peers with whom he got acquainted over the Internet. After experimenting there for a year, they adopted no-till farming. His idea was that indigenous seeds are best suited to the area's climate and soil, with no need for weeding. The land he rented had turned barren because of the excessive use of pesticides and chemical fertilizers by past farmers. He and his group mixed hay and grass into the soil to restore the land to its natural state.
In 2010, Jia went back to Shanghai, and found 100 mus of land (66,700 square meters) on Chongming Island. He says, "Respect nature. The land is meant to nurture life. Natural farming is criticized for its lower yields, but quite a lot of food produced now is just being wasted. If only we can cut down on the waste, the amount of food produced by natural farming should be sufficient." This year, he performed many experiments in wet-rice cultivation. Some were grown with no weeding, while others were grown with weeding a couple times. Some were not fertilized, while others were fertilized with rape-seed oil residue. His results showed that fertilizing with rape-seed oil residue combined with several times of weeding gave a good harvest. On Chongming Island, a paddy field using pesticides and chemical fertilizer yields about 550 to 600 kilograms of rice per mu. On Jia's land, the average harvest is 400 kilograms per mu, and 500 kilograms or more per mu on richer land. Jia feels confident now about natural farming. Currently, he sells rice at 13 to 14 yuan (about US$2) per kilogram, with profit for 2010 amounting to about 30,000 to 40,000 yuan (about US$4,500 to 6,000).

Yi Xiaowu: Modeling After a Taiwanese Environmental Group

Seeking a more human connection with his distributors, Jia saw common values with Shanghai Health-Conscious Consumption and Purchasing Group. The group's founder, Yi Xiaowu, comes from a farming village and is currently a network engineer. Yi realized how much environmental deterioration can cause harm when he and his friends from church were helping terminal patients at a hospital. He got involved with the environmental NGO Friends of Nature and later became the director of its Shanghai branch. One day at a discussion meeting, Yi happened to learn that Jia was a farmer and suggested to him, "You do the farming, and we'll buy your products."

Shanghai Health-Conscious Consumption and Purchasing Group, established in 2010, regularly purchases Jia's rice. Yi dreams of the group becoming like the Homemakers' Union and Foundation in Taiwan: owning its own land and distribution routes, reducing its dependence on producers, and decreasing the cost and price of its food products.
The group now has 35 members. Most of them volunteer in environmental protection activities. Each member purchases 10 kilograms of rice every month from Jia as well as fresh vegetables from youth in Shanghai. Yi says, "What we're trying to do is neither group purchasing nor simple consumption. Our aim is to promote natural farming, our core philosophy for environmental protection."

"Work with Pleasure, Embrace from the Heart"
Both Jia and Yi are filled with confidence about their future. Group members exchange technical know-how regarding agricultural work. Cereal and vegetable farmers share customer information. Chongming Island is now seen as an "eco-island," with a considerable numbers of migrants renting land to do organic farming there. City dwellers with an interest in natural farming acquire a greater sense of awe toward nature through the experience of being surrounded by living things.
Jia was once afraid of the responsibility of having children, but now accepts the idea of children as naturally as he cares for plants and flowers. He feels liberated from concerns over money and material things, and feels fine staying away from Shanghai for several months. He has reason to feel confident even if he were to return to Shanghai to be among white-collar workers.
To willingly accepting the physical labor of the farmer's way of life is to work with pleasure and embrace things from the heart. They named the grain they grow, "Wish for Joy."

This information is provided with a grant from
Global Greengrants Fund
.