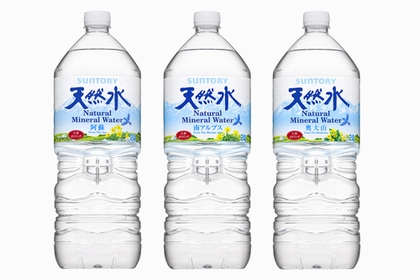 Copyright Suntory Beverage & Food

Suntory Beverage & Food Limited, a major Japanese beverage manufacturer, announced on December 17, 2012, that it will gradually switch its 2-liter plastic bottles for "Suntory Natural Mineral Water" to a lighter plastic bottle, starting in early February 2013. The plastic bottle currently being used is 36.2 grams in weight. This will become 29.8 grams (Japan's lightest 2-liter plastic bottle as of December 17, 2012), by achieving an approximately 20 percent reduction in weight. The lighter bottle can be crushed more easily after drinking.
The company estimated, based on its manufacturing plan in 2012, that the weight reduction of plastic bottles will result in a reduction of petroleum-derived plastic use by approximately 1,800 tons (oil equivalent: approximately 1,600 kiloliters) and carbon dioxide emissions by approximately 7,200 tons.
The company has made efforts to co-exist with nature, including forest conservation activities around water resource cultivation areas mainly by its own Institute for Water Science, and has developed containers to reduce environmental impacts, such as the easy-to-crush "P-ecot bottles" and labels made from recycled polyethylene terephthalate plastic.
Related JFS article:
2012 Environmental Brand Survey: Suntory Tops List for Two Consecutive Years
Suntory Water Project Wins Grand Environmental Prize for 2012
Suntory Develops New Plastic Bottle
Suntory Completes Japanese Industry's First B-to-B Recycling System for PET Bottles