JFS Newsletter No.165 (May 2016)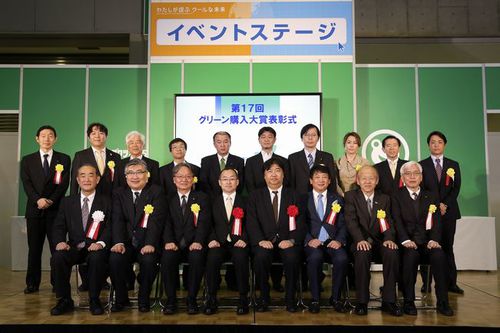 Copyright Green Purchasing Network All Rights Reserved.
The Green Purchasing Network (GPN), an organization comprising entities that promote green purchasing and procurement, including private companies, governmental bodies and consumer groups, recently celebrated its 20th anniversary. This article will focus on the activities of the GPN, which is working toward a sustainable society and economy through green purchasing.
The GPN's Founding
The term "green purchasing" was coined while the GPN was in its planning phase. The use of terms such as "green procurement" and "green consumer" was under discussion as a means of effectively promoting sustainable consumption and production with low environmental impacts. Neither term, however, was adopted since "green procurement" implies only procurement by companies and government bodies, and "green consumer" has strong connotations of individual consumption.
After a series of discussions on coining a term which could be used commonly and remembered easily by any consumer including individuals, government bodies and companies, the word "green purchasing" was put forward in the end.
Green purchasing refers to the practices of purchasing products and services with the lowest environmental impact possible by choosing businesses making efforts to reduce impacts on the environment over those not making such efforts, after giving due consideration to whether or not the items or services are really needed and taking into account the environment as well as quality and price.
In February 1996, a growing need for mechanisms to encourage wide use of environmentally-friendly products in society prompted private companies, government bodies and civil groups as equal partners to establish a network organization with the objective of widely promoting green purchasing activities. Starting from 73 founding member groups, the total number of the GPN member groups has now reached 1,917 (1,570 companies, 154 governmental bodies and 193 civil groups) as of April 26, 2016.
Green Purchasing Principles
Based on the purposes of its activities, the GPN established the Green Purchasing Principles on November 7, 1996. These principles encompass the following four major points.
Consider whether a product is needed before purchasing it.
Consider environmental impacts from the overall life cycle of a product, including those incurred through any services provided from extraction of raw materials to disposal.
Select products and services offered by suppliers who make a conscious effort to care for the environment.
Gather information on products, services and their respective suppliers, and employ that information when purchasing them.
Building upon the principles mentioned above, the Green Purchasing Guidelines were compiled to provide guiding principles for purchasing by category of products and services. Various types of members including manufacturers of environmentally-friendly products, companies willing to purchase such products, consumer groups, non-governmental environmental groups and local governments, participated in the guideline development process, discussing the contents in a consensus building approach. The guidelines cover a wide range of products and services, from office supplies and home appliances to vehicles.
The Eco-products Database gives environmental information in list form on products provided by each manufacturer so that users can compare products from an environmental standpoint in accordance with the Green Purchasing Guidelines. As of May 23, 2016, the database listed approximately 15,000 products from 63 fields, including environmentally friendly products in product fields for which the Green Purchasing Guidelines have yet to be formulated.
Based on the Principles of Green Purchasing, the GPN has also prepared a GPN Supplier Evaluation Check List, which lists perspectives for evaluating environmentally friendly efforts by suppliers of products and services. In the Eco-products Database, suppliers registering their products and services disclose their environmental efforts in accordance with the check list.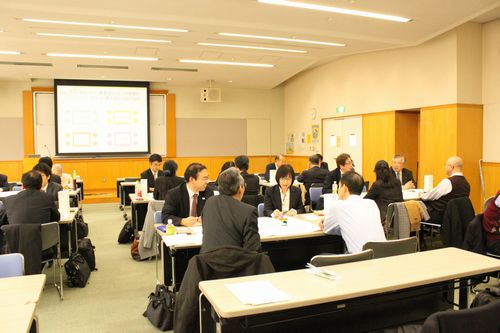 Copyright Green Purchasing Network All Rights Reserved.
Network Building
In May 2000, the Act on Promotion of Procurement of Eco-Friendly Goods and Services by the State and Other Entities (hereinafter the "Green Purchasing Act") was established. The purpose of this act was to create a society that could develop sustainably through initiatives taken by the national government and other public institutions to promote procurement of products and services contributing to reduced environmental burdens and to provide appropriate information on eco-friendly products and services, promoting a shift of demand to such goods.
Under the Green Purchasing Act, local governments are obligated only to make a sincere effort toward green purchasing. Local governments, however, perform three times the amount of economic activities as the national government, and have a big influence on the market. For this reason, positive efforts for green purchasing by local governments are expected to promote a shift of demand to eco-friendly products and services in each region as well as the domestic market overall.
To accelerate regional green purchasing, the GPN provides support for establishment of regional networks.
Starting from the Shiga Green Purchasing Network in 1999, regional green purchasing networks have been established for one prefecture or major city after another, including Mie in 2003, Miyagi in March 2004, Kyoto in October 2004, Saitama in 2007, Hokkaido in 2008, Yokohama in 2009 and Osaka in 2012. The number of member organizations of these regional networks exceeds 600. The GPN is working on further promoting establishment of green purchasing networks throughout Japan.
The GPN also serves as secretariat for the International Green Purchasing Network (IGPN), which was established in April 2005 as a joint effort with concerned parties around the world, and plays a central role in its activities. The IGPN has held international conferences and workshops, prepared tools to promote the spread of environmentally friendly products and services and established a database for global green purchasing activities. As a result, the green purchasing network is now expanding across Asian countries.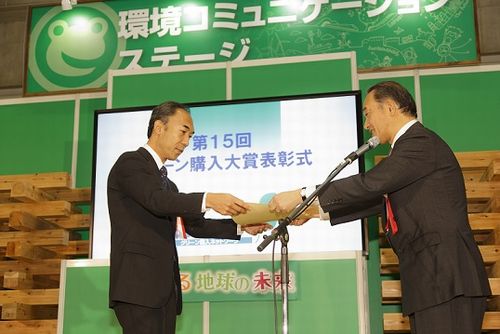 Copyright Green Purchasing Network All Rights Reserved.
Green Purchasing Award
Since 1998, the GPN has held Green Purchasing Award ceremonies almost every year to honor organizations active in promoting and expanding green purchasing. This award aims to encourage further efforts to promote green purchasing by recognizing advanced practices. It also aims to popularize and qualitatively improve green purchasing by sharing information on advanced practices.
Among the prizes awarded, the Minister of the Environment Prize honors organizations with particularly outstanding practices in promoting green purchasing among general consumers through green purchasing activities, environmental education, and environmental communication. Other prizes awarded to organizations making outstanding efforts include the Minister of Economy, Trade and Industry Prize to honor organizations with the best practices for expanding the green purchasing market through eco- conscious products and services; and the Minister of Agriculture, Forestry and Fisheries Prize to honor organizations with the best practices in green purchasing efforts that contribute to the development of domestic agriculture, forestry and fisheries, or in the promotion of green purchasing to general consumers.
The GPN, however, announced that it would not hold the 2016 Green Purchasing Award, on the ground that it must further examine how to improve this award system for the expansion and qualitative improvement of green purchasing. The GPN gives the following explanation.
Upon the adoption of the Paris Agreement under the United Nations Framework Convention on Climate Change in December 2015, the international community made a sharp turn toward a zero carbon society. Meanwhile, the United Nations adopted Sustainable Development Goals (SDGs) in September 2015, leading to a greater emphasis on social responsibility and sustainability in corporate activities. This has resulted in further expansion of fields deserving coverage in terms of green purchasing.

Under the conventional Green Purchasing Award system, we have focused on organizations' contributions to the expansion of the green market by promoting the selection, purchase, production and sale of eco-friendly products and services. We now regard fiscal 2016 as a year when we will review and consider the system's framework and criteria/methods of assessment in light of the international trends mentioned above.
The GPN's various efforts for vigorous promotion of green purchasing have contributed to the expansion and establishment of green purchasing in Japan, helping to make the Act on Promoting Green Purchasing function in practice. For national organizations that are legally required to procure eco-friendly products, items have been specified that should be focused on in terms of promoting procurement. The result is that more than 90% of the items meeting the judgment criteria have accounted for more than 95% of all procured goods since 2004.

Guidance book for the use of
sustainable palm oil
Copyright Green Purchasing Network
All Rights Reserved.
Efforts by local governments have also steadily expanded. A fiscal 2015 survey showed that 68.4% of local governments (100% of prefectures and ordinance-designated cities, 83.8% of cities and wards, and 52.5% of towns and villages) were purchasing green systematically, a significant increase from the fiscal 2005 survey in which the figure was 33.8% (96.7% of prefectures and ordinance-designated cities, 53.1% of cities and wards, and 15.2% of towns and villages).
The GPN is now making efforts to provide information on electricity and raise public awareness of palm oil as a new product, using GPN's knowledge and experience shared throughout the entire network, and its connections with people and organizations, fostered by 20 years of practice. Specifically, the GPN provides information on CO2 emissions coefficients, the usage rates of renewable energy sources and other data to promote green electricity purchasing. Also, in order to promote the use of sustainable palm oil, the GPN has drawn up a guidance book for the use of this resource, and is holding a workshop for business operators.
We will keep an eye on any new activities the GPN develops as a platform for collaboration and continuous activities of citizens, businesses and governments.

Written by Nobuhiro Tanabe