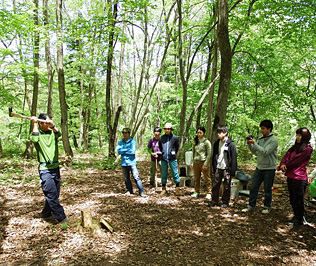 Copyright Cosmo Oil Co. All Rights Reserved.
In order to preserve the precious global environment for future generations, Cosmo Oil Co. established the Cosmo Oil Eco Card Fund and has been implementing the "Living With Our Planet" project since 2002, with the support of about 73,000 members of the fund. Through the project, donations are used to solve essential environmental problems by supporting environmental preservation activities under the themes of "restoration and preservation of the environment" and "education of the next generation."
In fiscal 2013, fourteen projects were conducted, and three of them achieved their goals, thereby ending their use of the fund. Another three projects were started in fiscal 2014. One of the projects, "Nature Experiences in the Afan Forest," is intended to create opportunities for children who have limited chances to enjoy nature outdoors and children affected by the Great East Japan Earthquake to interact with nature and develop confidence in themselves.
The "Protecting Our Red Pine Woods" project aims to restore "satoyama" (community-based forest areas and surrounding countryside) that have been damaged by the weevil, around Ina City, Nagano Prefecture, while conducting surveys on biodiversity. The "Information Dissemination in Minamisanriku Town!" project, in Minami Sanriku, Miyagi Prefecture, is working on reconstruction processes with a core concept of being in harmony with nature, and will foster human resources to play a role in the future reconstruction .
The fund has also been implementing eco-tours so that members can experience these activities.