JFS Newsletter No.140 (April 2014)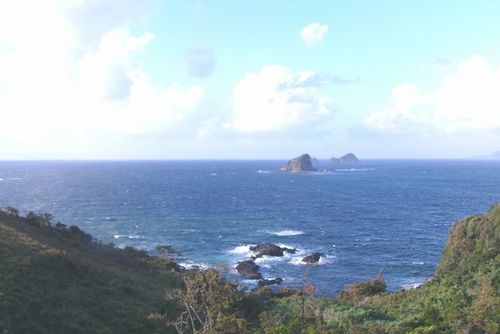 Copyright Megurinowa Co. All Rights Reserved.
One of Japan for Sustainability's (JFS) themes for fiscal 2013 was the "Local Well-Being Indicators." This issue of the JFS Newsletter introduces a summary of a case study presented at a symposium, "Thinking about Happiness at the Local Level," held on 6 February 2014 in Tokyo. This case study, entitled "Local Economy and Well-Being in Ama Town, Shimane Prefecture" was presented by Hiroshi Abe, president of Megurinowa Co.
[Ama Town is located in the Oki Islands, about 60 kilometers offshore of Shimane Prefecture, in the Sea of Japan.]
---------------------------------------
I'm not a native of Ama Town. Actually, I was born in Niihama City, Ehime Prefecture, and moved to Aichi Prefecture when I was 10 years old. Later, I lived in Kyoto for six years to study at university. Then, I got a job at Toyota Motor Corp. and was engaged in production engineering for four years. After I left this job, I moved to Ama Town in 2008 to found a company "Megurinowa Co. " (literally 'Ring of Encounters').
Historically, Ama Town is known as the remote island to which the Retired Emperor Go-Toba (reigned 1183-1198) was exiled after his defeat in the Jokyu Disturbance of 1221. A lot of historical heritage and traditional arts such as Shinto music and dance have been preserved on this island. With a population of 2,370, it is very small as it takes only one and a half hours to drive around it.
The town's budget scale is four to five billion yen (about US$ 38.8 million to 48.5 million), and it has one nursery school, two elementary schools, one junior high school and one high school.
Ama Town is one of the most depopulated townships in Japan and faces all the problems of a super-aging society. Ama's current aging rate is equivalent to the national average projected for 50 years from now. What makes this town different from other depopulated areas is that it did not merge with other municipalities. [When the national government was actively promoting municipal mergers,] Ama resisted and instead carried out thorough administrative and financial reforms, encouraged new industries and promoted internal and external exchanges. As a result, during the nine years from 2004 to 2012, 361 new people moved into Ama Town, accounting for more than 10 percent of its population, and 204 people who were born there but had moved to other places returned to their hometown. About 60 percent of these new and returned residents are now settled on the island, a higher settlement rate than in other hilly rural areas. Ama town is now attracting attention for this population increase of newcomers and returners.
Michio Yamauchi, Mayor of Ama Town, values the words "Independence, Challenge, Interaction." After the town decided not to merge with other municipalities, he drew up a strategic plan to promote the town's self-reliance that included both defensive and aggressive strategies. The defensive strategy consists of a radical reform of administrative and financial operations. In fiscal 2005, he initiated a new start by drastically reducing town hall salaries to the nation's lowest level as compared to the standard of other municipalities. This involved a 50 percent cut for the mayor and 16 to 30 percent cut for town officials. At the same time, he adopted two aggressive strategies; developing products by branding the whole island, and offering one of the nation's highest quality education programs as a full-fledged effort of the entire town.
Unless action is taken, a depopulating society faces a desperate future. By contrast, Ama Town has begun to see small signs of hope for the future in a present situation that underwent real change as a result of people's efforts. I would like to broaden the scale of these changes and bring hope for the future to the world.
I'd like to introduce some details of what happened with the declining population. The population of Ama Town was 2,465 in 2005. Five years later in 2010, its actual population decreased to 2,384, but this was 152 more than had been projected. In particular, the town saw an increase in all population segments under 40 in its age pyramid. Despite an overall decline, population distribution is changing in a way favorable to sustaining the community. Thus, the situation shifted slightly from the previously estimated scenario.
As for finances, the town managed to restore its financial health with the introduction of the consumption tax [in 1989] and a related increase in its local allocation tax grant from the national government. However, the town eventually faced financial difficulties due to the redemption of bonds for expanding public works spending. In the expectation of receiving increased grants, the town promoted many public works projects. In fact, the grants did not increase as much as expected. For fear of being trapped in a financial crisis, the town formulated a plan for administrative and financial reform [in 2000].
Though the town's financial situation improved slightly as a result of its review of both spending and salaries, it again deteriorated when the national government changed its policy and instituted a drastic cut in local allocation tax grants - the so-called "local government finance shock." In 2003, a financial simulation predicted that the town would become a municipality with a financial deficit by 2006, and eventually become a "municipality under rehabilitation," a legal entity organized for fiscal reconstruction under national government control, by 2008. Upon receiving such a terrible prediction of facing financial deficit in three years, most municipalities would choose to merge with other towns and receive special merger subsidies in order to survive. But instead of choosing to merge, Ama Town took strong action to make deep cuts in its labor costs and implemented aggressive and defensive strategies. The town's efforts are beginning to bear fruit and its balance of funds is gradually increasing.
The area of Ama Town is limited to Nakanoshima Island; this and two neighboring islands are grouped together as the "Dozen region." Oki-Dozen High School, the only high school in the Dozen region, was experiencing a decline in its number of students. When enrollment dropped to 28 in 2008, the high school feared that it would be forced to close by 2014. Two measures to reverse the situation were tried; one aimed to encourage students in the area to go to this high school, and the other aimed to increase the number of students coming in from outside through an exchange program. As a result, the high school now had two classes in each grade as of the 2013 academic year. There were 59 students in first grade, 45 in second and 52 in third, with half of them having come in from urban areas. We see a V-shaped recovery in prospective students.
Seeing this recovery, our company, Megurinowa determined to devote itself to educating people who can seriously commit to creating a sustainable future. In the midst of population decline, we hope to develop models of social and personal transformation in Ama Town, to help people become physically and mentally content. We hope to establish a school where people can learn these models and help communicate them to others around the world.
To achieve this, we are helping Ama become a model of sustainable society by acting as a catalyst between township officials and local people, and by working to popularize the Ama model at home and abroad. We hope to develop a system in Ama that can achieve a nice, comfortable balance between urban and rural lifestyles.
Because I am an outsider, it is important for me to build relationships of trust with people on the island. It has been six years now since I moved here, and I presently serve on its board of education. I feel I have built up a certain level of trust with islanders through my work.
Megurinowa's business activities center on three projects; community building to develop Ama Town as a social transformational model, education to train people to be agents for social transformation by learning through daily life in Ama and the provision of opportunities for transformation in personal life, and mass media communications to spread information about these transformational cases.
One of our education programs involves lifestyle training based on hands-on experiences in Ama that fully employ our five physical senses. This program aims to provide opportunities for personal transformation: it helps participants from companies and other groups develop their holistic abilities in the Ama Island setting as a basis for business skills. Specifically, the program provides various opportunities to become more competent in learning by enhancing participants' sensory abilities and level of awareness through experiences in agriculture and fisheries, giving them the opportunity to try an island lifestyle in a rich natural environment that satisfies their five physical senses. It also provides opportunities to communicate with local people who have a strong motivation and sincere aspirations for building a sustainable future on the island.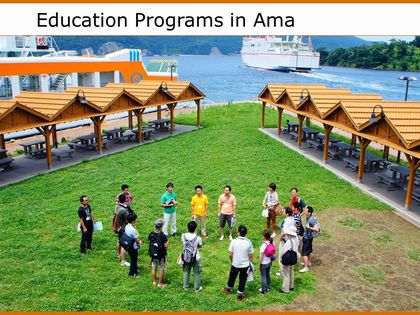 Copyright Megurinowa Co. All Rights Reserved.
We offer another program which we call "Meguri College" to train local coordinators. This program aims to nurture human resources who can facilitate social transformation. To solve local problems, I believe two competencies are required: one is what I call "local sense," which has a receiving function that accurately understands local features and strengths; and the other is "urban sense," that includes the ability to introduce these features and strengths to others in the form of products and services. We need coordinators who have good "local" and "urban" sense. This is the challenge - to function as this kind of human resource and communicate our know-how to others. This is how we can contribute to improving Ama and other local communities.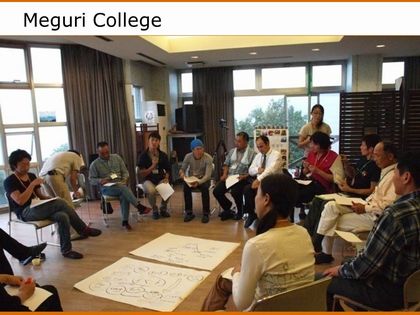 Copyright Megurinowa Co. All Rights Reserved.
We often hear the expression "local revitalization," but I dislike this phrase. It makes the process sound like a money-economy game in which the one who gets the most is the winner. Rather than profiting from commercializing local products, I prefer to realize a new way of life. That is, I would like to implement a lifestyle that includes daily life, earning, and work activities, while sharing this process with others.
When I speak of "daily life," I mean living within the natural environment. I got this idea from the philosopher Takashi Uchiyama, whom I greatly respect, that "working" has a different meaning than "earning". According to him, "working" is doing something for your community -- for example, joining others in cleaning up your neighborhood, helping out with local festivals, and so on. These activities were taken for granted in rural agricultural village culture until the Second World War. "Earning" was totally different from "working" for such villages. The received wisdom held that being able to manage both "working" and "earning" was necessary for someone to be acknowledged as a full-grown adult.
In my previous employment, I was busy earning money at the office and doing nothing but meeting my daily needs on my days off. I was rarely involved in work in the sense of doing something for my community. At that time, I was trying to make a clear distinction between my personal life and work. I had a mindset that, on the one hand, this is what I want to be, but on the other hand, I should be like that in order to achieve the corporate mission. This caught me in a trap of self-contradiction and weighed on my mind. I think we see this kind of suffering often in our current society.
After moving into Ama Town, I found that I was being myself without any pretense, fulfilling every factor of my daily needs as well as my earning and working responsibilities. In any event, any disguise is easily exposed in a small community. This is the way of life I am comfortable with.
About two years ago, I met Junko Edahiro, JFS's chief executive, and she asked me a question. "There are three types of economies; the money economy, the barter economy, and the self-sufficiency economy. What is the best mix of these economies to achieve happiness?" This made me realize that that the self-sufficiency economy was my daily life, the money economy was the source of my earnings, and the barter economy was my work based on receiving and sharing.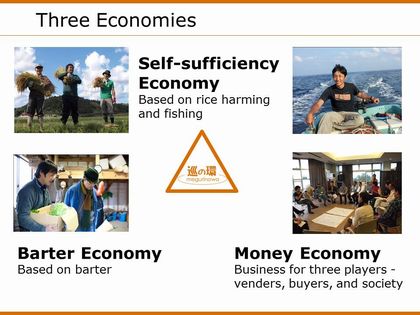 Copyright Megurinowa Co. All Rights Reserved.
Living in Ama Town, I have a paddy field to take care of with my office colleagues. I have an official fishing license and enjoying skin diving to catch fish and gather other marine products. I also enjoy bartering: for example, I gave turban shells I gathered to a person from Yamagata Prefecture who gave me cherries in return. When I meet someone, I say to them "Shall we barter?" just for fun.
Money making has to provide business advantages for three players - venders, buyers, and society. To be sustainable, business has to balance these burdens. That is what I'm trying to realize.
To achieve this way of life, I calculated for myself how much money would be needed for my ideal lifestyle in the case of a couple about 35 years of age with two children.
I made an estimate of my theoretical living expenses in three different lifestyle settings depending on the location; living in Tokyo, living in Ama Town, and living in a mixed economy of self-sufficiency, barter, and the money economy. In every case, 50,000 yen (about US$ 485) would be saved every month for the children's future educational expenses. I assume monthly living space rent of 120,000 yen (about US$ 1,165) in Tokyo and 40,000 yen (about US$ 388) in Ama. If I were living my ideal lifestyle, I would build my own house for 6 million yen (about US$ 58,200) with a 30-year loan.
I would need 5.4 million yen (about US$ 52,400) a year if I lived in Tokyo with my family, which would include leisure-related monthly expenses of 50,000 yen (about US$ 485). In Ama, as commodity prices are lower and amusement facilities are not as available as in Tokyo, I would need 3.7 million yen (about US$ 35,900) annually. This amount would include money for traveling to the mainland as a family trip every other month. If I were living my ideal lifestyle, I would need only 2.5 million yen (about US$ 24,300) a year. I wouldn't need any money for leisure activities as my life itself would be leisurely, but I would want to save money to travel abroad twice a year.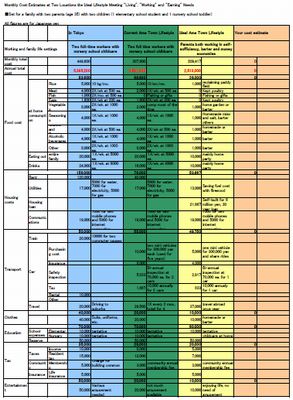 (Click to view larger image) 
Copyright Megurinowa Co. All Rights Reserved.
How can you be happy with a static income in a shrinking economy with decreasing population? I believe the best way to live is to maintain your mental affluence even with a lower cost of living. In order for a husband and wife to make at least 2.5 million yen (about US$ 24,270) a year, all they need to do is work three to four days a week at an office and spend rest of their time farming and fishing ? that is, pursuing the Half-farmer/Half-X lifestyle. I personally am trying to achieve the Half-farmer/Half-Megurinowa lifestyle, and am working to practice this living style at present.
Further, I am hoping to set up a school "Ama Human Ability College" in Ama Town, where students can learn sustainable lifestyle social transformation and individual transformation skills based on our experiences here. We welcome you to visit Ama. Thank you for your attention.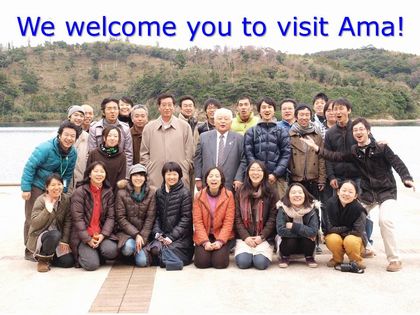 Copyright Megurinowa Co. All Rights Reserved.
Written by Hiroshi Abe, president of Megurinowa Co.
Edited by Junko Edahiro