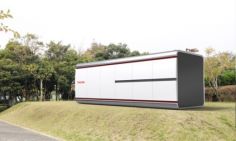 Copyright Toshiba Corporation
All Rights Reserved.
Kawasaki City, Japan, announced on November 13, 2014, that it signed an agreement with Japanese electronics manufacturer Toshiba Corporation to conduct demonstration testing of an off-the-grid energy supply system utilizing renewable energy and hydrogen. The stand-alone energy supply system combines solar photovoltaics, storage batteries, hydrogen-producing water electrolysis equipment, fuel cells, and other equipment and will be set up at the Kawasaki Port Promotion Hall and Higashi-Ogishima-Naka Park in the Kawasaki Port area (hereinafter "Kawasaki Marien"). Demonstration testing will begin in April 2015 and continue until the end of fiscal 2020.
Located in a designated emergency evacuation area, the installed system will be able to provide an estimated 300 evacuees with electricity and hot water for about one week, even if lifelines are cut from disaster. The system will also be transportable to disaster-hit areas on trailers.
Under normal circumstances, the system's energy management system will be used to shift and reduce peak power demand at Kawasaki Marien through optimized control of the solar panels, storage battery, and other devices.
Kawasaki City says it will continue to make efforts to be a forward-looking, environmentally conscious industrial city by actively introducing and utilizing hydrogen energy.