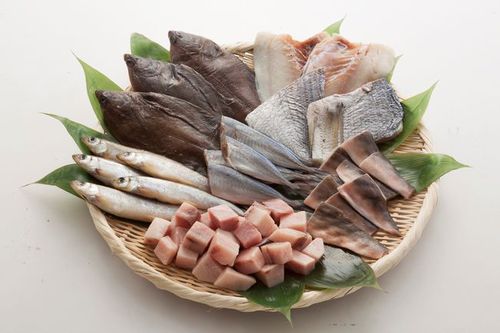 Copyright Daichi wo Mamoru Kai All Rights Reserved.
Daichi wo Mamoru Kai Co. (lit. "Association to Preserve the Earth"), an organic produce supplier in Japan, announced on November 10, 2014, that it had won the 2014 Food Action Nippon Award of Excellence (promotion of sales and consumption category) for its Mottainai Fish of Daichi wo Mamoru Kai product line, which features previously un-marketed or non-standard types of fish. It was praised as being a wonderful system that benefits the natural environment, consumers and producers, as well as for its increase in sales. Food Action Nippon is a public-private cooperative organization that promotes local consumption of food produced in Japan.
The Mottainai Fish product series is designed to support fisheries in Japan, with the company already having developed about 70 kinds of fish product items. The company created viable products from types of fish that were unfamiliar to the public and not marketed, so-called "worthless" fish that didn't meet market standards, and parts of fish once discarded during processing. Utilizing these previously unused resources has contributed to the conservation of fisheries resources, more stable income for fishery workers, and reasonably priced and tasty products for consumers.
Since November 24, 2014, in addition to Mottainai Fish, fruits, vegetables, and processed foods have also been sold as a series of the "Mottainai" series of Daichi wo Mamoru Kai, with clear and detailed explanations of the value of the products to consumers.