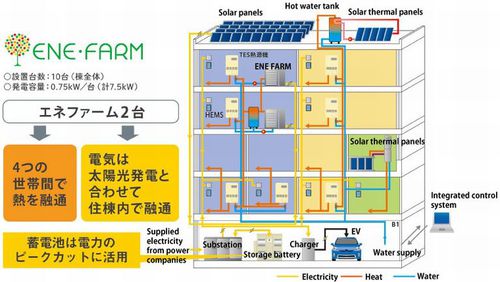 Copyright Tokyo Gas All Rights Reserved.
Tokyo Gas Co. announced on June 10, 2014, that the received electricity (electricity supplied from power companies) at peak times was successfully reduced by 58% in summer and by 49% in winter during its demonstration test of a smart housing complex. The test was part of an initiative called the Yokohama Smart City Project.
The demonstration test was conducted at Tokyo Gas's Isogo Smart House in Isogo, Yokohama, to verify the energy-saving effect of a Demand Response program. Demand Response is a structure of controlling electricity use by end-use customers by requesting customers to curb electricity use at times of tight electricity supply.
Specifically, when the demand for electricity is high, an integrated control system of a residential building controls the supply-demand balance of electricity and heat used in the entire building upon receiving a Demand Response order from a regional energy management system. The control response includes maximizing generation from a household fuel cell known as Ene-Farm (short for energy farm), and delivering an energy-saving request to each household via a household energy management system.
Tokyo Gas's Isogo Smart House won an Award for Excellence on May 21, 2014, at the 12th Environmental and Equipment Design Award, Category II: Integrated Mechanical and Electrical Design, a design competition held by the Association of Building, Engineering and Equipment.