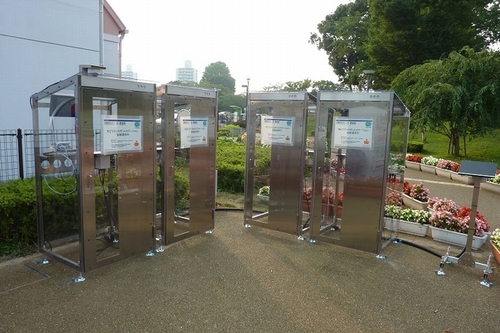 Copyright National Institute of Advanced Industrial Science and Technology All Rights Reserved.
The National Institute of Advanced Industrial Science and Technology (AIST) in Japan announced on September 4, 2013, that it will begin testing the feasibility of a transportation system that uses a mobility robot sharing system, established in collaboration with the City of Tsukuba in Ibaraki Prefecture. In the test, participants will use a Segway Personal Transporter (PT), a mobility robot on which users ride while standing, to move between the Institute and Tsukuba Station.
AIST has added various sensors and information display devices (such as a global positioning system) to the Segway PT, and has also adopted reservation and mobility management systems for its sharing system. By collaborating with battery charging stations, AIST will also be able to offer Segway PT users an automatic rental and return service. During the test period from September 2013 to March 2014, Institute personnel will rent Segway PTs from a charging station for short-distance business trips and other errands. AIST will thus gather and analyze data on a for-business sharing arrangement, in order to verify its use and study the possibility of its commercialization. AIST also intends to propose the system as a model for transportation systems that use information infrastructure.
The robotics-powered Segway PT is both environmentally friendly and also thought to hold promise as a more convenient personal mode of transport. Japan's compact city initiative, aimed at encouraging local municipalities to reduce their dependence on carbon, is focusing on the Segway PT as a favorable mode of transport in central downtown areas.