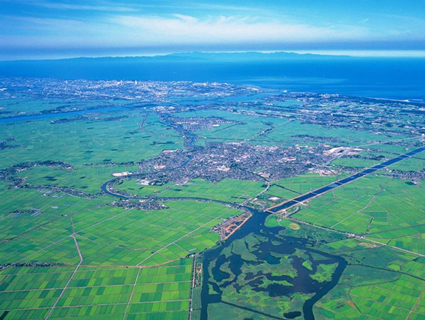 Niigata City surrounded by rural areas
Copyright Niigata City

The Japanese Cabinet Secretariat announced on March 15, 2013, that the government had selected seven additional cities as Eco-Model Cities (EMCs), including Tsukuba, Ibaraki Prefecture, Niigata City, Niigata Prefecture, Mitake, Gifu Prefecture, Kobe and Amagasaki, Hyogo Prefecture, Nishiawakura, Okayama Prefecture, and Matsuyama, Ehime Prefecture. Some of the proposals serve as excellent models for other cities, such as Niigata City's, which envisions a garden city with a combination of urban and rural areas.
EMCs are municipalities which take innovative approaches targeting ambitious goals, including significant reductions in greenhouse gas (GHG) emissions, to provide a concrete image of a low-carbon society to be realized in the future. Thirteen cities have been selected to date, and each city has formulated specific action plans to achieve the goal of reducing GHG emissions. Every year, the cities follow up by publishing progress results, activity assessments, GHG emissions and the like for the previous fiscal year.
In February 2013, the 13 cities' efforts were evaluated, and Kitakyushu, Fukuoka Prefecture, was rated highly. Kitakyushu has been making steady progress on projects including the promotion of the Advanced Model of a Low-Carbon District in Jono and a Smart Community (urban community combining smart grids, renewables, transportation, recycling, and advanced technology), international support through the Kitakyushu Asian Center for Low Carbon Society, and offshore wind power tests by businesses and other national research entities. Consequently, Kitakyushu has earned a reputation as a city capable of further GHG-emission reductions.
Junko Edahiro, chief executive of Japan for Sustainability, was a former member of the committee that selects and evaluates EMCs.