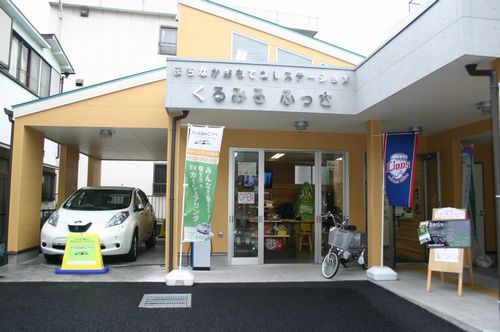 Copyright Fussa City

Fussa City, located in a suburban area of Tokyo, launched an electric car and electric-assisted bicycle sharing service in 2012. The service, which is available to tourists as well as residents, is the first attempt of its kind in Tokyo.
Making the declaration to be an environmentally advanced city, Fussa City formulated an environmental basic plan through citizen participation, and laid down a new regional energy vision with the goal of reducing greenhouse gas emissions by 50 percent. As a part of these efforts, the city implemented this car & bike sharing service to demonstrate its next generation mobility model project.
The service allows users to share electric vehicles and electric-assisted bicycles installed by the city at several stations in the city. Named "Hospitality Station Kurumiru Fussa" in the city center, the main station also functions as a tourist information center to advertise sightseeing activities in the city.
.
This program aims to curb carbon dioxide emissions and reduce environmental impact by not owning but sharing electric vehicles and electric assisted bicycles among many people, as well as to promote eco-friendly urban planning.
Pilot Bicycle Rental Projects Start in Two Cities near Tokyo (Related JFS article)
Car-Sharing System Membership Soaring (Related JFS article)
Okayama Prefecture Renting out EVs to Residents Free of Charge (Related JFS article)
Posted: 2012/06/24 06:00:15 AM