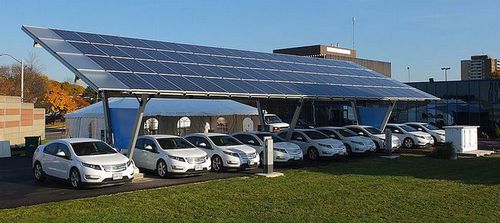 Image by Sass Peress Some Rights Reserved.
Japan Climate Leaders' Partnership (Japan-CLP) announced on April 25, 2017, the establishment of a partnership with an international non-profit organization, the Climate Group, which hosts international business initiatives such as RE100, EP100 and EV100. The Group was established in 2004 to address climate change, and members include about eighty large enterprises and state/city governments from around the world.
The participants in RE100 are companies aiming to achieve 100 percent renewable energy for business operations. Meanwhile, the EP100 participants are companies aiming to double the energy efficiency of their operations. Lastly, the goal of EV100 is to solve problems in the rapidly growing transportation sector by electrification.
Japan-CLP views the above initiatives as efforts that aim to promote/support corporate efforts (renewable energy, energy saving and decarbonization of mobility), and are consistent with the goal established by the Paris Agreement of keeping the global rise in average temperature to well below 2 degrees. Furthermore, Japan-CLP fills the role of the Climate Group in Japan, and aims to support the willing participation by companies in these initiatives in Japan.
Moreover, Japan-CLP plans to set up a working group related to carbon-free operations and business, to ascertain the demand for decarbonization from the companies associated with RE100, EP100 and EV100. Japan-CLP also plans to consider providing business solutions, with the expectation that the partnership with the Climate Group will produce a synergistic effect.