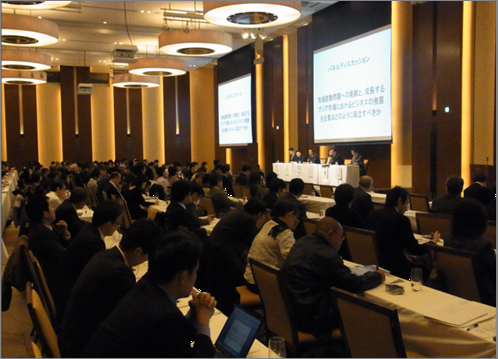 Copyright Japan Climate Leaders' Partnership

The Japan Climate Leaders' Partnership (Japan-CLP), a Japanese business coalition, hosted the Asian Climate leaders Symposium on December 10, 2010, in Tokyo. They discussed the subject of simultaneously pursuing business achievements and contributing to the combat of climate change, and issued a joint statement on realizing a sustainable low-carbon society in Asia.
The Symposium consisted of three invited companies (Samsung Global Environment Research Center (Korea), Cathay Pacific (Hong Kong), and Huawei Technologies Co. (China), and eight members of the Japan-CLP (AEON Co., SAP Japan Co., Obayashi Corporation, Tokyo Marine & Nichido Fire Insurance Co., Tokyo Steel Manufacturing Co., Fujitsu Ltd., Bank of Tokyo-Mitsubishi UFJ Ltd., and Ricoh Company, Ltd.) (See http://www.japan-clp.jp/)
The Joint Statement recognizes that spearheading the transition to a sustainable low-carbon society is the best/most expedient way to embrace business opportunities, and that taking such action will contribute to the development of the Asian region while tackling climate change. The statement notes the importance of communication and engagement with the government, businesses and supply chains, non-governmental organizations, and employees on this issue, in addition to encouraging eco-friendly consumer behavior. It also aims to promote co-operation to build a strong partnership with international business networks, particularly in Asia, and to make substantial progress towards mitigating the risks of climate change and achieving a sustainable low carbon society.
Japanese Climate Leaders Release Proposal for Creating a Low-Carbon Society (Related JFS article)
http://www.japanfs.org/en/pages/030028.html
Posted: 2011/05/08 06:00:15 AM