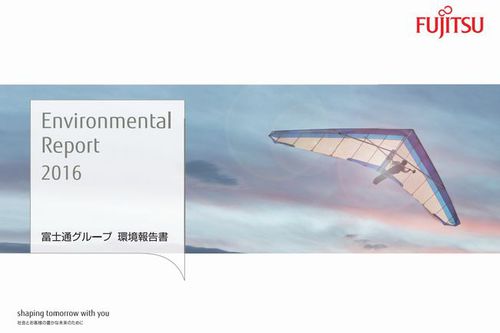 Copyright Fujitsu Ltd. All Rights Reserved.
Fujitsu Ltd., a major Japanese information technology equipment and services provider, released its Fujitsu Group Environmental Report 2016 on August 9, 2016. In fiscal 2015, the provision of information and communication technologies (ICT) allowed Fujitsu to reduce its greenhouse gas (GHG) emissions by approximately 40 million tons. The company achieved all 17 targets defined in the Fujitsu Group Environmental Action Plan (Stage VII), which included a reduction of GHG emissions by 35 percent compared to 1990 levels at the group's facilities.
The Fujitsu Group formulated the Fujitsu Group Environmental Action Plan (Stage VII) to include its environmental goals for the period from fiscal 2013 through fiscal 2015, and has been working to improve the environment accordingly. In fiscal 2015, the company decided to incorporate solutions such as those utilizing cloud-based services and tablet computers into its calculations. As a result, the company's contribution to reducing global GHG emissions equaled a total reduction of approximately 40 million tons since fiscal year 2013, surpassing its target of 38 million tons.
Efforts made to reduce GHG emissions in Fujitsu offices and factories include the replacement of the gas used in semiconductor manufacturing plants for a gas having a low global warming potential. This led to a reduction in GHG emissions of 35 percent, significantly surpassing its 20 percent reduction target compared to 1990 levels. The company also improved power efficiency by over 2 percent despite increasing energy consumption in data centers due to an expansion of cloud services.
The Fujitsu Group Environmental Action Plan (Stage VIII) further strengthens the company's activities to date, aiming to achieve a sustainable and affluent society and contribute to the resolution of social and environmental issues through ICT, by making contributions to its customers and society within the framework of the sustainable development goals (SDGs) established by the United Nations in 2015, reducing its environmental burden across the entire value chain, and the like.