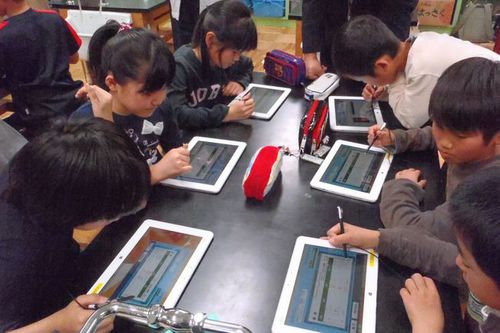 Copyright Fujitsu All Rights Reserved.
Fujitsu Ltd., a major Japanese information technology equipment manufacturer, started to provide visiting lectures in environmental education for elementary and junior high school students in the country in April 2014. Lecturers use a set of digital instructional materials focusing on the ecological footprint concept in "One Planet Living -- From the Perspective of the Ecological Footprint," an initiative developed together with the World Wide Fund for Nature (WWF) Japan.
The content of One Planet Living makes students think about the environmental impact imposed by human activities, and how to reduce that impact. For the lecture, Fujitsu provides its own brand of tablet device for each student so that all the students can share their opinions and participate in the lecture, proactively exchanging their ideas with each other.
Through this program, Fujitsu aims to encourage children to think of what they can do for One Planet Living and begin to take actions to live within the carrying capacity of the planet, as well as to contribute to the promotion of the use of information and communication technologies (ICT) in regular classes through this program, as part of the Future School Promotion Project by the Ministry of Internal Affairs and Communications.
The company is going to provide various visiting lectures in environmental education, including this program for elementary and junior high schools, with a target number of 5,000 students and 100 organizations participating, as one of their initiatives in raising public awareness to solve the world's environmental problems.