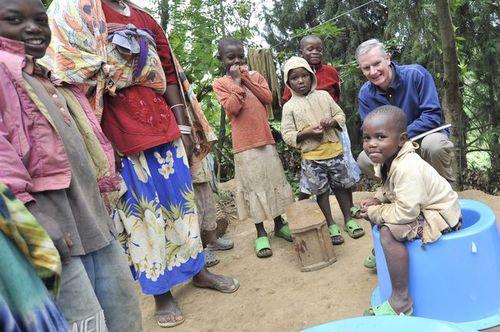 Copyright LIXIL Corp. All Rights Reserved.
LIXIL Corp., a Japanese living and housing solutions company, announced on May 31, 2016, that the number of SaTo portable toilets being used in developing countries was expected to exceed one million in July 2016. SaTo, short for Safe Toilet, was developed by LIXIL for emerging markets. The company is conducting sales and trial installations in developing countries including Bangladesh, Kenya, Uganda, Rwanda, Haiti, the Philippines, and India, where it is contributing to improved hygiene for about five million people.
SaTo features a low-cost and easy-to-install structure, allowing the unit to be installed over the hole of a concrete slab. A valve placed on the drain outlet prevents odor from human waste from leaking out and flies from entering. By preventing bad smells and disease transmission, which often occur with conventional vault toilets, these features of SaTo are expected to help improve public hygiene.
LIXIL says that, drawing on its expertise in the field of sanitary wares, it has developed a range of products for addressing global hygiene issues in response to needs expressed by developing countries. It also has expressed a commitment to providing safe and sanitary living conditions for people around the world, aiming to improve hygiene for 100 million people by 2020.