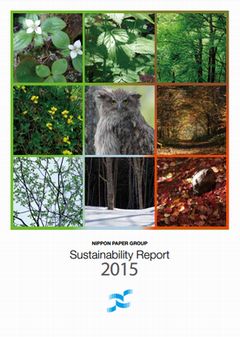 NIPPON PAPER GROUP Sustainability Report 2015
Nippon Paper Industries Co., a major paper manufacturer in Japan, announced on February 16, 2016, that its Sustainability Report 2015
Nippon Paper Industries Co., a major paper manufacturer in Japan, announced on February 16, 2016, that its Sustainability Report 2015 was awarded a special prize for excellence in biodiversity reporting (the Director of the Global Environmental Forum Award) in the Environmental Report category of the 19th Environmental Communication Awards, co-organized by Japan's Ministry of the Environment and the Global Environmental Forum.
The Environmental Communication Awards are given for outstanding environmental reports and activities, with the aim of encouraging efforts in environmental management and communication, as well as promoting qualitative improvement in environmental information disclosure. A total of 302 environmental reports, including 195 in the Environmental Report category, were examined for the 19th Awards.
Under the slogan of being "a comprehensive biomass company shaping the future with trees," the Nippon Paper Group established its own environmental charter to guide environment-friendly business activities. Based on the principles articulated in the charter, the Group is working to reduce the environmental impacts of its business activities, and working to practice business in response to a growing public awareness of environmental issues.
The Group says the award was a great encouragement to continue working on CSR activities and on information disclosure in ways that are comprehensible and comprehensive.