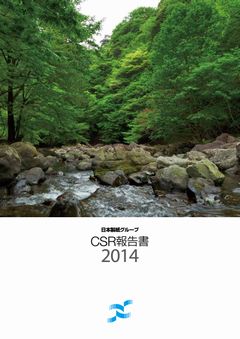 Copyright Nippon Paper Group All Rights Reserved.
Nippon Paper Group, Inc. of Japan established the Charter on the Environment centering on its environmental business management, which positions the reduction of environmental burden from its business activities as a key social responsibility. Based on the charter, the group formulated its environmental action plan called "Green Action Plan" to set tangible goals and implement actions effectively as a whole group.
Green Action Plan 2015 for fiscal 2011 to 2015 includes the following four points: a) To adopt a "total quantity" for its CO2 reduction target against global warming; b) To clearly state the enhancement of traceability to protect and nurture forestry resources; c) To adopt "recycling rate" as an indicator for the promotion of cyclical use of resources; and d) To enhance "precautionary approach" management together with "compliance with laws and rules" to reduce environmental load.
In fiscal 2013, the third year of the five-year plan, the group reduced its CO2 emissions from fossil energy by more than "25 percent from fiscal 1990 levels," and attained its goal that "all imported hardwood chips are certified by the Programme for the Endorsement of Forest Certification Schemes, or by the Forest Stewardship Council, bringing favorable results." This means that the group's efforts are producing good results.