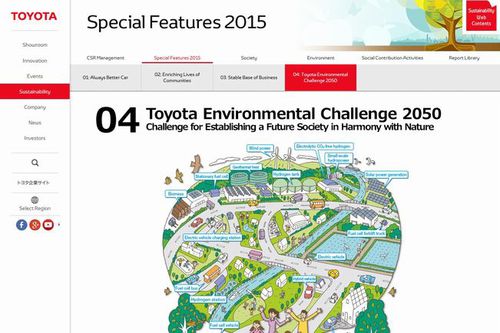 "Environmental Challenge 2050" website.
Copyright Toyota Motor Corporation All Rights Reserved.
Toyota Motor Corporation announced on October 14, 2015, the "Toyota Environmental Challenge 2050," a new plan to contribute to achieving a sustainable society. The plan -- which consists of six challenges regarding global environmental issues, such as climate change, water shortages, resource depletion, and biodiversity loss -- aims to not only minimize the negative impacts caused by automobiles, but also to bring a positive impact to society. The challenges are characterized by three principles.
Under the "Always Better Cars" principle, Toyota aims to cut the amount of carbon dioxide (CO2) emitted from its new automobiles by 90 percent by 2050 compared with 2010 levels. It also aims to reduce CO2 emissions through their automobiles' entire lifecycle to close to zero, from raw material production, vehicle and parts production, and driving, to final disposal.
Under the "Always Better Business" principle, Toyota intends to completely eliminate CO2 emissions at its manufacturing plants, through a combination of efforts to "develop and introduce low CO2 technologies and continuous improvement" and to "harness renewable energy and hydrogen." It also aims to significantly reduce the amount of water used in painting, forging and other processes, and to completely purify water used in processes before returning it to natural flows, in an attempt to minimize environmental impacts.
Under the "Always Better Society" principle, in 2016, Toyota will launch two projects to globally expand its techniques and systems that have been developed in Japan regarding proper waste treatment and recycling. Also in 2016, the company will expand three projects on nature conservation activities that have been conducted by its group and affiliated companies to connect to other countries and regions around the world, and to future generations.