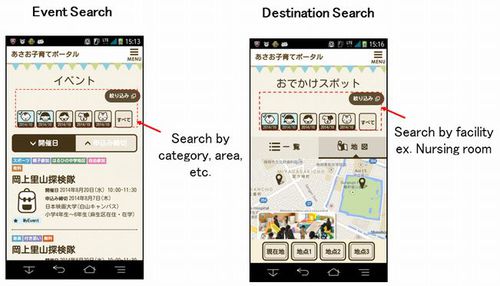 Copyright Fujitsu All Rights Reserved.
Fujitsu Ltd., a major Japanese information technology equipment and services provider, announced on January 5, 2015, the launch of a demonstration test using a Linked Open Data (hereinafter LOD) system in collaboration with the government of Kawasaki City, Kanagawa Prefecture. LOD is an open data system for sharing information that enables open data from different sources to be connected and queried.
One of the issues facing Kawasaki City is how to get information to child-rearing parents and guardians in an appropriate and effective manner. Some citizens have complained of the difficulty of getting the information they need, such as upcoming events for parents or facilities where parents can nurse babies or change babies' diapers. Meanwhile, as the number of smartphone users grows, the city has also come to recognize the need to upgrade and simplify its information distribution system, which has been getting more troublesome and complicated.
In order to solve these issues, Fujitsu developed an app using a system by which positional information and content are linked and work together. App users can access location-specific information on events and places to visit that meet their individual needs. The app was also designed to automatically download newly registered event information, making it easier for personnel at government offices or volunteer organizations to manage the information they distribute.
The demonstration test using smartphones was conducted from January through February in 2015, targeting parents who had participated in child-rearing events and used childcare facilities in Asao Ward, Kawasaki.