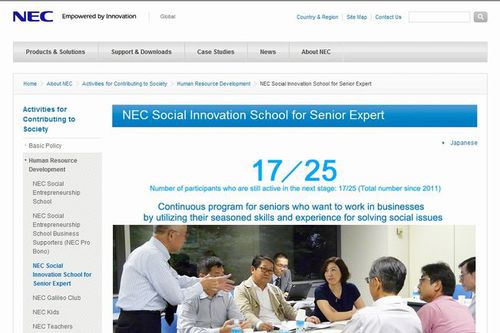 Copyright NEC All Rights Reserved.
Japan's NEC Corporation announced on July 8, 2014, that it will again hold the NEC Takumi Juku (meaning "craftsman class" in Japanese) for corporate retirees seeking opportunities to utilize their skills and experience in social contribution activities or social business. The program is designed to help senior professionals to work in professional volunteer services (pro bono) at an NPO or NGO, or to start a social enterprise of their own, thereby promoting the creation of new community-oriented businesses and job opportunities.
NEC Takumi Juku will be a six-month program organized by NEC and the Japan Philanthropic Association. It will offer workshops on life planning, the basics of social business, as well as volunteer experiences, through which participants can look back on their careers and find clues for how they can utilize their skills and experiences to solve social issues.
Held annually since 2011, the program has had 25 participants in total, 17 of whom have begun a new stage in their career, including NPOs and social businesses.
The program has been well received by academic experts, as noted in one of the reports published at the annual meeting of the World Economic Forum held in January 2014. Yoko Ishikura, coauthor of the report and professor at Keio University Graduate School in Japan, profiled the NEC initiative in her article "Reinvigorating Japan's Economy with More Women and Older Workers," as an innovative approach that enables older workers to contribute their skills and experience to society after retirement.