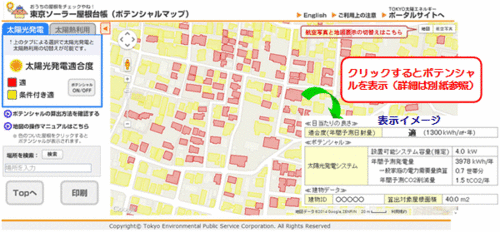 Tokyo Metropolitan Government
The Tokyo Metropolitan Government released in March 2014 the Tokyo Solar Potential Map , the first map of its kind in Japan showing solar power and thermal utilization potentials for each building.
Simply by typing an address, users can determine at a glance whether a particular building is suitable for solar power or solar thermal use. The map also provides an estimate of annual power generation and heat collection, as well as the amount of CO2 emissions that can be reduced by installing such systems.
According to the map, for example, the Diet Building has the potential to generate 1,167,075kWh annually, enough to power 206 Japanese households, potentially reducing 446 tons of CO2 emissions in the process. For solar thermal utilization, the building's roof has the potential to generate 21,968,462MJ of energy, equivalent to the annual heat demand of 1,008 households, or a CO2 emissions reduction of 1,180 tons.
Building potentials are determined based on the amount of solar radiation they receive, which is calculated through three-dimensional analysis of the actual buildings using aerial survey data. Roof pitch and shadows cast by nearby structures are also taken into account when verifying the compatibility of a building to solar power and thermal utilization. Although Tokyo does not have many large sites available for solar power systems, the Metropolitan Government argues that its densely built buildings can be equipped with systems to generate and utilize a significant amount of solar power and heat.
Written by Kazuko Kojima