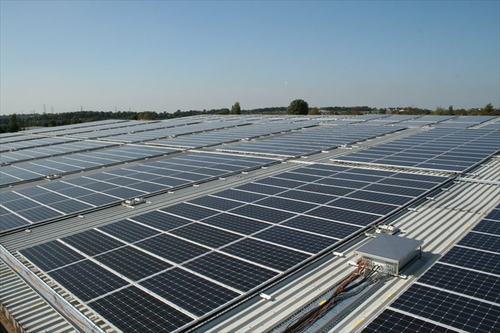 Image by h080 Some Rights Reserved.
The New Energy Foundation announced on December 12, 2013, the winners of the New Energy Awards for fiscal 2013. The highest award, the Minister of Economy, Trade and Industry (METI Minister) Award was given to Satsuma Shizen Energy for its Sasshu Natural Energy Industrial Complex Project, which aims to revitalize the region with environmental initiatives.
The project established a management body with investments from local businesses, administrative agencies and schools, and with funding from financial institutions and citizen funds, and then installed solar power generation systems on the roofs of the investors' factories and facilities. All the electricity generated from the systems is sold to a power company, and this revenue is devised to be passed on to the community in the form of roof usage fees to those who provide spaces for solar installations, and regional specialties and other goods to other local residents. The project has been highly evaluated for its benefits to the region as a whole, as well as for the prospects of a broader ripple effect.
The awards have been sponsored by the New Energy Foundation since fiscal 1996. The purpose of the awards is to widely collect proactive efforts of development and installation of new energy equipment and facilities and awareness raising . In addition to the METI Minister Award, seven other initiatives were chosen, including a project at Iwamizawa Agricultural High School in Hokkaido which received the Director-General Natural Resources and Energy Prize for its efforts in technology development and local activities using new energy in agriculture.