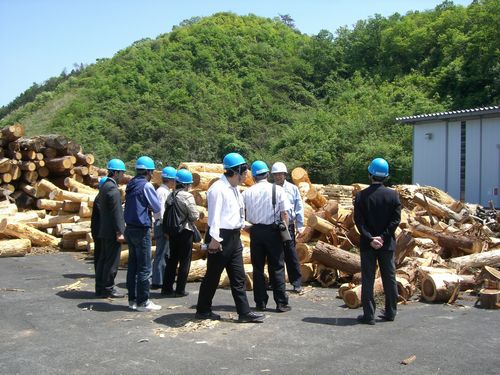 Copyright Maniwa Kanko Renmei

Japan's Ministry of Economy, Trade and Industry (METI) announced on December 24, 2009, the winners of the 14th annual New Energy Award (for fiscal 2009), which is aimed at promoting the introduction of new energy sources by showcasing efforts related to new energy such as the development of equipment, provision of services, and the introduction and promotion of facilities. Out of 43 applications, two projects were selected for the Minister of METI Prize and two for the Director-General of the Agency for Natural Resources and Energy (ANRE) Prize.
One of the winners of the Minister of METI Prize is the "Biomass Tour Maniwa" project, which gives people the opportunity to see, experience, and learn how biomass is used in Maniwa, Okayama Prefecture. It focuses on regional construction under the biomass project, and aims to contribute to regional development by offering "industrial tourism" bus tours. These efforts are highly evaluated as a model for other regions toward the establishment of a regional recycling society. The other Minister of METI Prize winner is the "i-MiEV" new-generation electric vehicle from Mitsubishi Motors Co.
The Director-General's ANRE Prize was awarded to two projects. One is the "Reducing CO2 Emissions by Half!!" project, a system developed by Aleph Inc. for food-processing plants that allows for both the local production and consumption of biomass resources, and the combined use of geothermal heat and exhaust heat from heating and cooling facilities. The other award went to Asahi Breweries Ltd. for its "Production of Asahi Super Dry with Green Electricity" project.
Winners of 2008 New Energy Awards Announced (Related JFS article)
http://www.japanfs.org/en/pages/028846.html
Announcement of the FY 2009 (14th) New Energy Award
http://www.meti.go.jp/english/press/data/20091224_01.html
Posted: 2010/05/04 06:00:15 AM