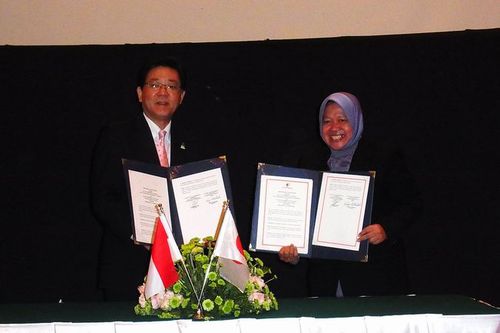 Copyright Kitakyushu City All Rights Reserved.
The Kitakyushu Asian Center for Low Carbon Society, established in June 2010, has actively supported the efforts of local companies to expand their businesses overseas. In so doing, the center uses the Kitakyushu Model that it developed by organizing its development know-how in order to support green city development in emerging economies, particularly those in Asia. The center also operates joint projects with businesses while utilizing the national government's support systems and helping businesses receive financial assistance.
According to its activity report as of the end of fiscal 2013 (March 2014), the center has worked on 50 research projects, including those in the process of concluding a contract, to obtain a total of some 2.6 billion yen (about U.S.$25.2 million) in funds from the Japanese government, as well as eight projects using subsidies from the city worth some 31 million yen (about U.S.$300,000). Past projects include 16 waste management and recycling projects, 19 water management projects, seven energy projects, five projects to tackle global warming, and three community-building projects. They were implemented in Indonesia (18 projects), China (11), Vietnam (eight) and Cambodia (nine), among others.
The center has supported about 65 companies, four of which have succeeded in launching their operations elsewhere in Asia. Kitakyushu is focusing on the export of environmental infrastructure systems ahead of other local governments, with the idea that taking part in the early phase of master plan development will make it possible to propose urban development using corporate technologies, and to develop an environment that facilitates an expansion of business operations.