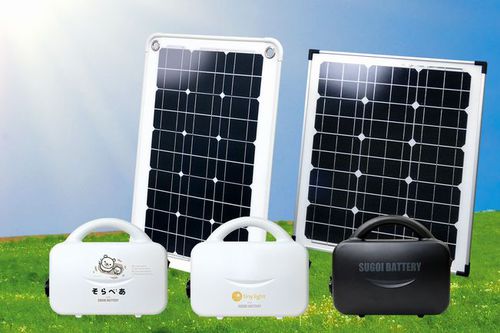 Copyright Ecology Online All Rights Reserved.
Ecology Online, a Japanese non-profit organization that strives to promote renewable energy, had sold more than 200 sets of the miniature solar photovoltaic system "Tiny Light Nano Power Station Set" as of March 2014.
The Nano Power Station Set is a combined system, consisting of a 40-watt, high-power photovoltaic solar panel, and a small, lightweight (2.5 kilograms), high-capacity rechargeable battery. The battery can be fully charged in 9 hours on a clear day, and has enough power to charge up to 70 mobile telephones, to operate an LED light for 22 hours, or to run a small refrigerator for 7.8 hours.
With the aim of preventing climate change, the Nano Power Station Set was developed as the world's smallest power station and was launched for sale in April 2013. It is now drawing the attention as a useful item in disaster prevention/reduction. At the Ofunato Tsunami Denshokan Museum in Ofunato City, Iwate Prefecture, this system has been exhibited as a useful product to survive and reduce the damage of tsunami disasters. Nasukarasuyama City in Tochigi Prefecture installed a storage battery system that consists of 10 Nano Power Station Sets in order to provide electricity for residents in times of power failure.
In cooperation with manufacturers of rice cookers and water heaters, and the developers of applications for smartphones to collect disaster prevention information, Energy Online has proposed various methods for utilizing their miniature solar photovoltaic system, for both general and emergency usage, and aims to install the Nano Power Station Set at 1,000 sites in Japan by fiscal 2014.