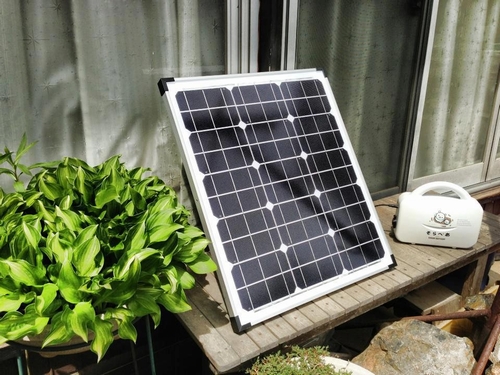 Copyright Ecology Online

In a drive to promote renewable energy, Ecology Online, a Japanese non-profit organization, launched sales on April 20, 2013, of its "Nano Power Station Set" -- a combined system that includes a 40-watt, high-power photovoltaic solar panel and a high-capacity rechargeable battery -- as the first product in its "tiny light" series.
The solar panel measures 61 x 52 x 2.5 centimeters and weighs only 3.5 kilograms, but it has a high efficiency of 19 percent, is made of a single crystal, and charges up even when the sky is cloudy. The battery itself is small, weighing only 2.6 kilograms, and can be held in one hand. It also has an extra-large capacity of 75,000-milliampere-hours, which allows the recharging of up to 70 mobile telephones, the operation of LED lights for 22 hours, or powering a small refrigerator for 7.8 hours.
The Nano Power Station Set is priced at 58,000 yen (about U.S.$592), and a portion of sales goes to assisting areas affected by the 2011 Great East Japan Earthquake. Ecology Online is attempting to promote the use of renewable energy by regular citizens, and aims to spread the use of low-loss direct-current networks between households.