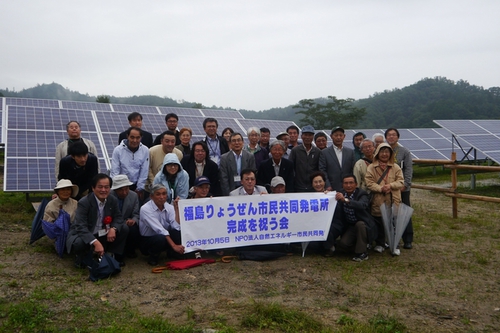 Copyright People's Joint Power Generation from Renewable Energy All Rights Reserved.
Fukushima Ryozen Citizens' Joint Power Plant completed construction in September 2013 in Date City, Fukushima Prefecture, Japan. Jointly planned by Fukushimaken Nominren, a farmers' association in Fukushima, and People's Joint Power Generation from Renewable Energy, a non-profit organization (NPO) in Osaka, and constructed using funds raised by citizens, the plant generates about 50 kilowatts of power from solar energy.
Many farmers in Fukushima have suffered through shipment restrictions and price drops as a result of the accident at Fukushima No. 1 Nuclear Plant after the Great East Japan Earthquake. Aiming at reconstruction of Fukushima and prevention of global warming without nuclear power generation, construction of a power plant supported by local citizens was planned. Local thinned wood was used for fences around solar panels, and local farmersconstructed the plant.
Construction funds were raised from citizens in Fukushima, and throughout Japan via a trust mechanism. The raised money totaled 20 million yen (about U.S.$204,000), and this will be managed over 20 years. The generated power will be sold to Tohoku Electric Power Co. under the Feed-in-Tariff Scheme for renewable energy power generation.
Two percent of the annual revenue from selling electricity will be reserved for reconstruction of Fukushima (estimated to be about 780,000 yen (about U.S.$8,000) over a period of 20 years). A working committee from Fukushimaken Nominren and People's Joint Power Generation from Renewable Energy are responsible for fund management.