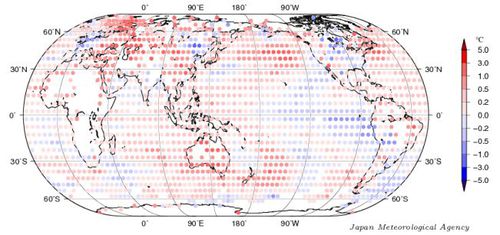 Annual mean surface temperature anomalies in 2013
Copyright Japan Meteorological Agency All Rights Reserved.
The Japan Meteorological Agency released 2013 statistics on annual mean temperatures for Japan and worldwide on February 3, 2014. According to the data, the annual anomaly of the global average surface temperature for the year 2013 is estimated at 0.20 degrees Celsius above the average, and is expected to be the second highest since 1891, when the recording of statistics started. In addition, Japan's annual mean temperature rose by 0.34 degrees Celsius compared with the average, and is expected to be the eighth highest since 1898.
The annual mean surface temperature anomalies are obtained by deducting the base line, which is the average of the thirty years from 1981-2010, from the average temperature. In the long term, the world's annual mean temperature has been rising at a rate of 0.69 degrees Celsius per hundred years, and that of Japan has been rising at a rate of 1.14 degrees Celsius. High-temperature years have become more numerous, particularly since the 1990s.
The recent warm years observed in Japan and worldwide are attributed to global warming caused by the increase in emissions of greenhouse gases such as carbon dioxide, together with natural fluctuations that occur in cycles ranging from a few years to several decades.