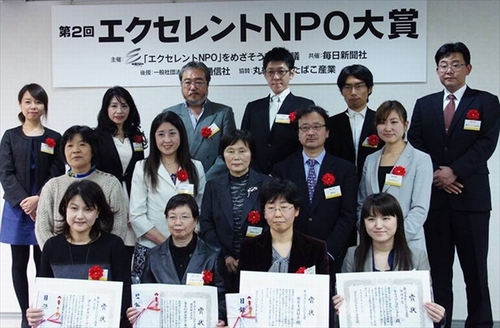 Copyright Civil Conference to Promote Excellent NPOs All Rights Reserved.
The winners of the second annual Excellent NPO Award were announced in December 2013 by a Japanese civil group that promotes excellence in non-profit organization (NPO) activities. Among the 173 applicants for the award, the Japan Association for Refugees won the top prize (Grand Prix) plus a prize for its organizing power, Pool Volunteer received the civil prize, the Japan Multicultural Center Tokyo got the prize for task solution ability, and the Kamonohashi Project also won a prize for its organizing power.
From among the applicants, since being established in 1999, the Japan Association for Refugees has been continuously supporting refugees from foreign countries to Japan. The NPO was highly evaluated for its reliable organization basis and clear fundraising policy. Secretariat Eri Ishikawa, when accepting the award at the ceremony, said, "The application process for the award created an opportunity for us to have a fresh look at our organization."
The Civil Conference to Promote Excellent NPOs, the awards organizer, sets 16 evaluation items from three points of view: citizenship, social innovation, and organizing power. Applicants for the award evaluate themselves based on these points before applying.
There are more than 48,000 NPOs in Japan (as of October 2013), most of which still stand on a weak economic basis and have limited influence on society. The Civil Conference aims to induce competition in quality in the non-profit sector and thus to create a virtuous circle for a robust and affluent civil society. Applications for the third annual award will be accepted from around May 2014.
Kazuko Kojima