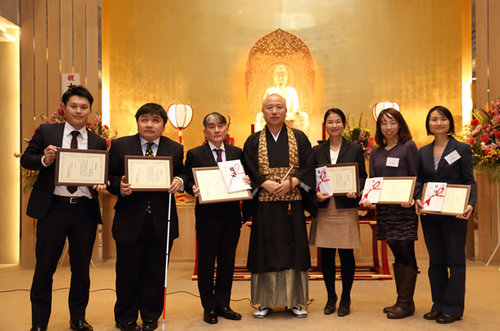 Photo by Toru Shirakawa.
The AYUS International Buddhist Cooperation Network, a non-governmental organization (NGO) for volunteers from many Buddhist sects in Japan celebrated the twentieth anniversary of its establishment by launching the AYUS NGO Award in November 2013. The award is presented to honor a member of an international cooperation NGO for distinguished achievement. Michiya Kumaoka, an advisor of the Japan International Volunteer Center (JVC), was selected as the first recipient of this prize.
Kumaoka was involved in the foundation of JVC, Japan's first NGO to specialize in international cooperation, and has been contributing to the independence and protection of human rights of disadvantaged people around the world, in countries including Cambodia, Palestine, South Africa, and North Korea. He was also recognized for making a substantial contribution to improving the public recognition of Japan's international cooperation NGOs.
Besides the AYUS NGO Award, the New Face Award (Incentive Award) for promising young professionals of international cooperation NGOs, was given to a staff member from Terra Renaissance, an NGO working for world peace, and four other individuals from different groups. AYUS will support their future activities as AYUS's own activity.
Since its establishment in 1993, aiming to promote international cooperation based on the spirit of Buddhism, AYUS has been working to support NGOs and provide educational and communication services as the two main pillars of its activities. It will support Japanese NGOs tackling problems of peace and human rights, sending out messages, through their connections with Buddhist temples, about what they have learned from the world.
Kazuko Kojima