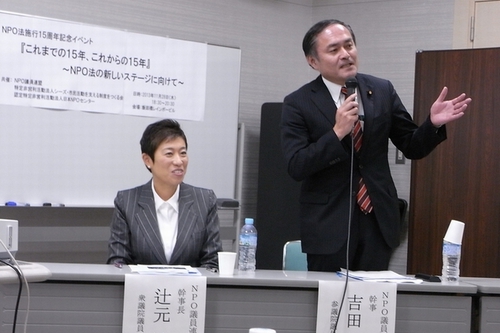 Diet members also joined the 15th anniversary event.
On December 1, 2013, the law to Promote Specified Nonprofit Activities (NPO Law) of Japan marked its 15th anniversary. The law aims to contribute to the public interest by promoting specified nonprofit activities.
As of October 2013, there are more than 48,000 nonprofit organizations (NPOs) in Japan. Most of these work in the areas of health, medical insurance and social welfare, followed by social education and development of local communities. In a survey, about 90 percent of respondents answered that they understand what a nonprofit organization is. This shows that nonprofit organizations are increasingly recognized as supporting citizens' activities.
The current Japanese system, however, still needs much improvement. At the anniversary event hosted by the NPOs and the federation of diet members for promoting NPOs, both of which had made efforts to establish the NPO Law, the participating NPOs noted several issues requiring improvement in the coming years. For example, although authorized NPOs, which are given tax preferential treatment, have sharply increased since April 2012 due to the easing of regulations, they constitute a little over one percent of the total NPOs. Another noted that NPOs sometimes have difficulty in collaborating with local governments because the public organizations often implement personnel reshuffles, which makes it difficult to accumulate coproduced knowledge and expertise.
At the event, the federation of diet members also reported on their visit to the United States in September and October 2013. In that report, the executive head of the federation, Lower House member Kiyomi Tsujimoto, said they will work more actively to improve the Japanese system, listing 10 issues they should learn, such as simplification of the procedures required for establishing an NPO, and improvement of the tax system for donations.