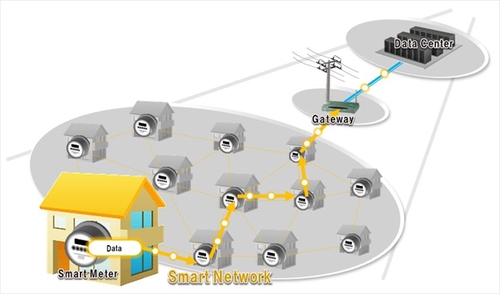 Copyright Fujitsu All Rights Reserved.
Fujitsu Limited, a major Japanese producer of communication and information processing systems, announced on November 15, 2013, that its ad-hoc communication technology was adopted as a global internet standard by the Internet Engineering Task Force, an open international community where internet technology standards are submitted, reviewed and publicly archived for reference once approved as a potential Internet standard. Targeting smart meters, the company developed this technology, which is the world's first wireless data transfer communication technology in the field of data transfer technology for low power and lossy networks. The adoption by the IETF means that power utilities and equipment manufacturers around the world can refer to and use the specification as a standard to interconnect communications devices.
The autonomous-decentralized network technology is able to automatically construct a network and was designed to be incorporated into communication systems with smart meters and other devices. Though smart meters produced for homes previously had a technical problem with maintaining a stable communication connection, this new technology is able to realize a stable wireless network communication even on a large scale.
The Kansai Electric Power Co. Inc., which utilizes this technology, realized interactive communication by which the company collects electricity usage data and controls switch gears. It has applied the technology in more than two million large-scale smart systems and has been maintaining stable operation. With this initiative, the company is streamlining meter reading and using the data to display electricity usage visually, aiming ultimately to install 13 million smart meters.