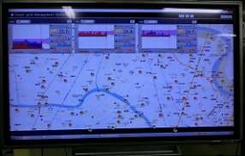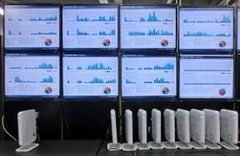 Copyright Keio University

Keio University announced on May 22, 2013 that it succeeded in an experiment to control between the electricity supply and demand of 1,000 households using machine-to-machine (M2M) communication technology. This technology, the university states, will enable communication of power supply and demand information between participating households and optimize power supply to achieve each household's energy goals, such as minimizing the electricity bill, maximizing use of electricity from renewable sources, and using electricity from storage batteries within the same household.
The Laboratory led by Prof. Naoaki Yamanaka at Keio University has proposed the new idea of an Energy Virtual Network Operator (EVNO) that regulates the electricity supply and demand between three entities: households, power plants, and electricity storage facilities. The laboratory set up three EVNOs having a different operating policy that realize difference householder's energy goals, such as reduce peak demand, reduce electricity bills, and/or use of renewable energy by regulate the electricity supply and/or controlling demand of each household.
To regulate supply and demand in accordance with each household's energy goals, EVNO automatically adjusted for example, the temperature settings of air-conditioners, controlled the power consumption and on/off of TVs and washing machines.
The experiment verified the practical feasibility of controlling the electricity supply and demand of 1,000 households with a cycle time of two seconds using an EVNO environment emulated on computers. Further experiments are planned to demonstrate the method in an environment that is closer to actual households.