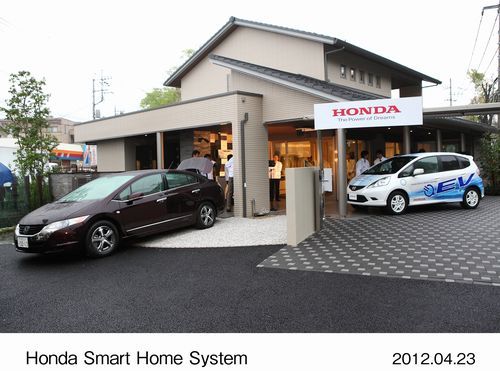 Copyright Honda Motor Co.

Honda Motor Co. announced on April 23, 2012, that it has unveiled a demonstration house built in Saitama City, Saitama Prefecture, to test the Honda Smart House System (HSHS), which comprehensively controls in-house energy supply and demand. The testing will continue until 2018.
The HSHS in the demo house consists of several components, including a photovoltaic system with thin-film solar cells made of copper-indium-gallium-selenium compound (CIGS), a home battery unit, household gas-engine cogeneration unit, hot-water supply system and the Smart e Mix Manager, a comprehensive energy management device. As the core of the HSHS, the Smart e Mix Manager optimally controls electricity produced by HSHS devices, as well as power supplied from the grid, reducing residential carbon dioxide (CO2) emissions. This management device can also provide backup power to make the home self-sufficient during power outages or disasters.
Through the HSHS demonstration, Honda aims to reduce CO2 emissions by 50 percent, as compared to year 2000 levels. In addition, the company will verify the "vehicle-to-home" power system that supplies backup energy to the home from such vehicles as electric, plug-in hybrid and fuel-cell cars in order to meet energy needs during a blackout or disaster.
From Smart Grid to Smart Community
Posted: 2012/08/05 06:00:15 AM