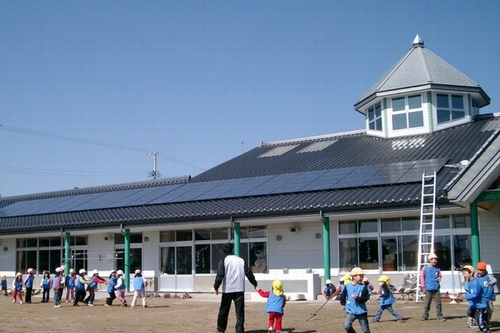 Copyright Ohisama Energy Fund Co. All Rights Reserved.
Since the Great East Japan Earthquake in March 2011, local governments across Japan have been passing basic ordinances related to the promotion of renewable energy. The laws mainly cover building awareness on renewable energy and stimulating the growth of private businesses. Konan, Shiga, in western Japan, and Iida, Nagano, in central Japan, are leading examples of cities that are opening the doors to community-driven efforts.
Konan's ordinance on the utilization of local renewable energy went into effect in September 2012. The city views renewable energy as a community-owned resource, and is the first municipality in Japan to adopt the concept of community control in the development of renewable energy resources (called "community power"). The concept's aim is to facilitate self-directed efforts in development. Since Konan's ordinance was passed, the number of local governments that have established similar ordinances has been increasing.
Iida, which passed its own ordinance for renewables-based sustainable development in April 2013, became the first city in Japan to create "community environmental rights." These rights entitle its citizens to preferentially utilize energy generated from renewable sources as a collective property for building the community. The city is creating a mechanism to support such activities as part of a joint initiative between the public and private sectors. Through this mechanism, the city will provide support to various citizen-led entities engaged in developing the community through renewable energy use.
Time will tell whether local governments can achieve their goals to build local consensus and revitalize their economies through community power projects.
Hironao Matsubara
Institute for Sustainable Energy Policies