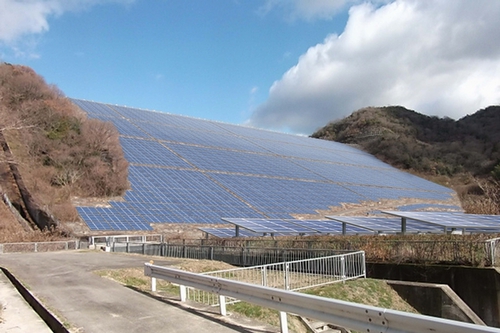 Copyright Hyogo Public Enterprises Agency All Rights Reserved.
The Hyogo Public Enterprises Agency announced in April 2013 the outline of a directly-managed megawatt-scale solar project. Aiming to make the most effective use of properties such as dams owned by water suppliers and sites owned by local infrastructure developers with no prospect of being sold for temporary use, the prefecture intends to build solar power facilities that would help improve the profitability of local enterprises.
The 11 planned sites in the prefecture cover 31.3 hectares in total. The expected electrical generation capacity is 25.99 million kilowatts, which is equivalent to the annual electricity use of 7,200 Japanese households.
Included in the plans is the use of the sloping faces and borrow pits of the Kotani Dam in Himeji City and the Heiso and Gongen dams in Kakogawa City, Hyogo Prefecture, none of which require new development for solar power installation. Moreover, all of the dams generally face south and have gentle slopes, making it possible to install solar panels more densely than on flat terrain.
The agency says that the project will help increase renewable energy use and play a part in stabilizing electricity supplies.