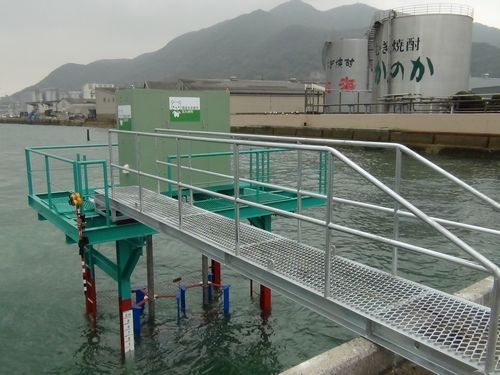 Copyright Kitakyushu City

The City of Kitakyushu in Fukuoka Prefecture, southern Japan, began a full-scale trial of tidal power generation at Nikka Whisky Distilling Co.'s Moji Factory on March 17, 2012. An experimental tidal power generator has been set up next to the jetty at Moji Factory, where it faces the Kammon Straits, one of the fastest tidal currents in Japan. The test aims to verify power generation capacity and to confirm such issues as the cost and maintenance frequency required.
Tidal power is a natural source of energy that works by rotating propellers with the tidal current to generate power using the same mechanism as wind power generation. The city of Kitakyushu conducted a survey of the Kammon Straits in FY2010 with subsidies from the Ministry of Internal Affairs and Communications as part of a project to utilize local resources. After collecting data on the tidal speed of the Kammon Straits, conducting basic studies on laws and regulations, and selecting the site for the trial, the city concluded that the aforementioned site was most suitable for the test, despite the tidal speed being relatively slow.
In fiscal 2011, the city built a system for the test together with Hiraki Laboratory of the Kyushu Institute of Technology and Kyushu Techno Research Inc., a company conducting environment/materials-related businesses. The trial test is currently being conducted with the cooperation of Nikka Whisky Distilling Co.
Japanese Firm Begins Development of Tidal Power Generation System (Related JFS article)
Offshore Wind Farm Verification Project Off Kitakyushu City Begins (Related JFS article)
OECD Selects Japan's Kitakyushu as First Model City for Green Growth in Asia (Related JFS article)
Posted: 2012/05/30 06:00:15 AM