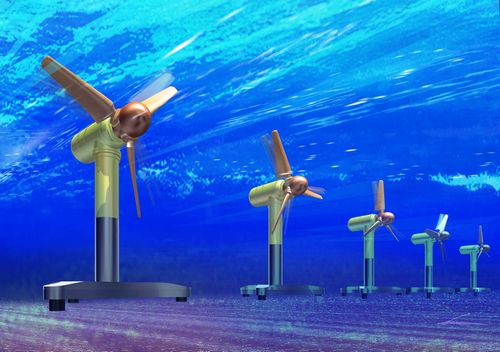 Copyright Kawasaki Heavy Industries, Ltd.

Kawasaki Heavy Industries, Ltd., a leading Japanese heavy machinery manufacturer, announced on October 19, 2011, that it has started developing a tidal power generation system, and was selected as one of the companies to conduct research into ocean energy power generation systems subsidized by the New Energy and Industrial Technology Development Organization (NEDO).
Practical use of tidal energy is highly anticipated, because tidal currents are widely distributed worldwide, are largely unaffected by weather and climate, and are capable of producing a stable supply of electricity. Kawasaki will utilize its wide range of expertise on ocean vessels, marine engines, marine structures and gas turbine power generation plants to develop the tidal power generation system.
Kawasaki plans to speed up its technological development efforts for the project before conducting a full-scale experiment at the European Marine Energy Centre (EMEC) in Scotland, the world's leading site for ocean energy development. It also intends to expand its business globally by participating in large projects overseas, in addition to taking on domestic commercial power generation projects.
Japanese Heavy Industry Company Succeeds in Producing Bioethanol for Automobile Fuel (Related JFS article)
http://www.japanfs.org/en/pages/030516.html
Folding Wind Turbines Installed in Okinawa (Related JFS article)
http://www.japanfs.org/en/pages/030340.html
Tokyo Gov't Sets up Committee to Study Feasibility of Wave Power Generation (Related JFS article)
http://www.japanfs.org/en/pages/029690.html
Posted: 2012/01/03 06:00:15 AM