JFS Newsletter No.112 (December 2011)
"Towards a Sustainable Japan -- Corporations at Work" (No. 99)
http://www.nipponkoa.co.jp/english/index.html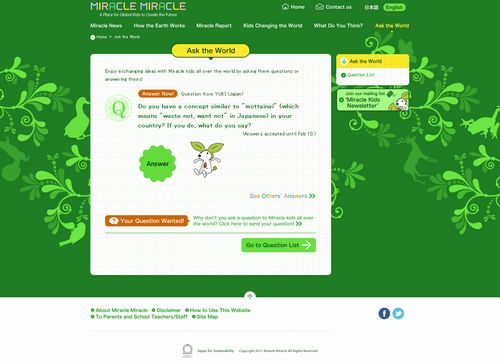 Japan experienced an unprecedented earthquake that occurred off the Pacific Coast of Tohoku on March 11, 2011. The Nipponkoa Insurance Company is a major provider of non-life insurance in Japan. Non-life insurance exists because people do not know when, where and how natural disasters will occur. For this article we interviewed two executives of Nipponkoa Insurance Co. about their work experiences at the time of the earthquake: Mr. Shoji Ito, general manager of CSR (Corporate Social Responsibility) office at the Corporate Planning Department, and Mr. Yukiteru Shimada, manager of the division.

Employees Touch Human Hearts While Working for Earthquake Victims
Earthquake insurance was instituted to help stabilize the lives of victims. Because payments in the form of immediate living expenses provide victims with emotional and economic security and help to restore them to a more normal life, Nipponkoa made it a top priority to make insurance payments promptly.
To affect this, the company set up a task force on the day of the disaster, and opened an earthquake insurance clearing center in Osaka where the risk of blackouts was small, and made insurance payments available in Tokyo. Seven hundred (700) of its employees gathered from all over Japan to a survey office opened in the affected area to handle the situation. The company's entire staff tackled the disaster together and Nipponkoa was able to complete payments to 30 to 40 percent of its customers by about one month after the quake, while other insurance companies reached only about 10 percent of their customers. On May 25, about two months after the quake, it achieved a payment rate of 90 percent.
Previously, the company had a bitter experience when it received administrative punishment for the delay of insurance payouts. Since then, it has deployed various means to speed up the payout process. For an ongoing insurance payout project that assumes an inland earthquake in the Tokyo metropolitan area, it acquired ISO BS25999-2 certification, a first among insurance companies in the world. The company has always been prepared, and this attitude contributed to its achievements.
Covered with dust and dirt, its employees researched areas in the disaster zone where buildings and houses had so completely disappeared that they could not identify the foundations or even original location. These employees found great support in the caring and gentle people of the Tohoku district.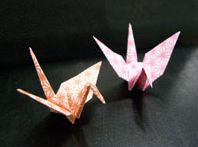 Copyright Nipponkoa Insurance Co.
Some customers thanked them for their trouble by offering lunch or energy drinks, expressing their appreciation and gratitude for coming all the way out to the disaster zone. One customer whose house was completely destroyed showed concern for his neighbor, saying "I want you to give half of the insurance money to my next door neighbor, and I will have the other half. That's enough." After employees sent get-well notes with folded paper cranes to victims, they received a thank-you letter from a mother who lost her daughter, in which she wrote, "Thank you for the cherry blossom-colored paper crane. My daughter loved cherry blossoms. I really appreciate it and I will treasure your gift."
Trying to respond to its customers who cared about others even though they themselves were suffering, all employees worked together and made efforts beyond his/her normal role and workload. This made rapid payment possible. Ito said that this incident reminded them of the importance of the insurance business because it helps people when they are in need and is a challenging job that contributes to society. One important lesson the company learned from the disaster was, "Do not forget the compassion that people essentially possess."

Nipponkoa's Initiatives to Cope with Climate Change
In addition to earthquakes, natural disasters partly engendered by global climate change have become more catastrophic in recent years. When Hurricane Katrina hit the Gulf Cost in the United States in 2005, insurers paid out about three trillion yen (about US$39 billion). Since the Japanese insurance market is about seven trillion yen (about US$91 billion), the losses caused by Hurricane Katrina alone accounted for the equivalent of almost half Japan's annual insurance sales. Devastating natural disasters are a critical risk for insurance companies.
The insurance industry has what is called the re-insurance system in which insurance companies share risk cooperatively. This means that Japanese insurance companies may have to bear the risk of natural disasters in other countries. Ito says, "I'm afraid that we will not be able to serve as an insurance company or even continue our business unless we mount initiatives to tackle climate change. The sustainability of everything depends on efforts to curb climate change."
In 2008, Nipponkoa launched a carbon neutral initiative and published its carbon neutral plan, which aims to reduce its carbon dioxide (CO2) emissions to zero by 2012. In the same year, the company became the first in the insurance industry to receive certification from the "Eco-First System" established by Japan's Ministry of the Environment. The company has been promoting its initiatives through unique systems that support carbon offsets of its own as well as those of other stakeholders.
One example of Nipponkoa's in-house practices is the appointment of "Eco-Checkers" who lead environmental activities in each of its offices around the country. These leaders check eco-friendly activities in their office every month, and hold meetings to improve and promote environmental activities suitable for their office. These efforts have become even more active since 2009 when the company started using the amount of CO2 emissions as one of the criteria to assess the performance of each office.
As for carbon offsetting by stakeholders, Nipponkoa focuses on auto insurance, which accounts for about 50% of its premium income (or sales). To reduce environmental impacts and CO2 emissions through its insurance products and services, the company offers an "Eco-Net Insurance Clause," a paperless system in which customers agree to read their policy conditions on the Internet when purchasing a policy. The intention is to reduce the amount of paper used and environmental impacts associated with sending paper documents.
Nipponkoa also recommends eco-friendly, safe driving to corporate policyholders during the policy period. The company offers eco-driving lessons by sending its own employees or agents with a Nipponkoa instructor license to company policyholders. At present there are 9,000 instructors working to spread eco-friendly, safe driving in many parts of the country.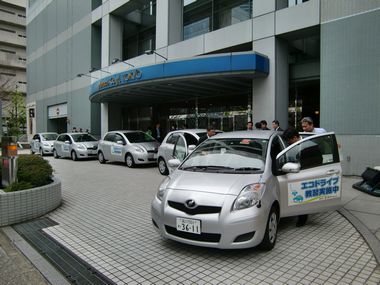 Copyright Nipponkoa Insurance Co.

Should a policyholder have an accident, Nipponkoa recommends eco-conscious responses in order to promote efficient use of resources and reduce CO2 emissions. For example, if damaged parts are found to be repairable, the company recommends repair instead of replacement. It also recommends the use of recycled parts, called "eco-parts," when damaged parts need to be replaced.
In fiscal 2010, Nipponkoa achieved its CO2 emissions target (including indirect emissions) of a 20% reduction from 2006 levels. As a signatory to the UN Global Compact, the company set a medium- to long-term target for the creation of a low carbon society in accordance with the precautionary principle, with the aim of a 34% reduction in CO2 emissions by fiscal 2020 and an 80% reduction by 2050.
Nipponkoa's progress now appears to be smooth, but when it started considering emissions reduction in 2007, few people in Japan understood the idea of carbon neutrality and there were no helpful precedents. So, the company independently established the Nipponkoa Standards for calculating CO2 emissions, following the guidelines published by the Ministry of the Environment at that time.
For calculating CO2 emissions, the company carefully drew up standards appropriate to its business activities by setting the boundaries as widely as possible and creating a unique method to calculate emissions from activities for which calculation standards had not yet been established.
Three years after the company launched its carbon-neutral plan, an important effect emerged in its business costs - its efforts to reduce CO2 emissions reduced costs by about 3 billion yen. In particular, the items that were calculated in accordance with the company's unique standards significantly contributed to cost reductions: direct emission reductions calculated in accordance with legal standards and indirect emissions calculated in accordance with Nipponkoa's own standards were almost even, but in terms of impact on cost reduction, the former saved about 300 million yen (about US$3.89 million) where the latter saved as much as 2.7 billion yen (about US$35.06 million), a 9 times more.
"At first many in our company questioned the carbon neutralization initiative, but expanding the targets for CO2 calculations led to cost reductions greater than the cost of purchasing the emissions credits necessary to achieve carbon neutrality," Ito says.
Hoping to share these beneficial results with many other businesses, Nipponkoa developed a new service jointly with Hitachi Solutions, Ltd., the "System for Visualizing CO2 & Costs." Its group companies started to promote Nipponkoa's unique initiative of "Eco-checkers" as a consulting service to their business partners.

Miracle Miracle -- A Place for Global Kids to Create the Future
In 2011 Nipponkoa started a new project "Miracle Miracle -- A Place for Global Kids to Create the Future." This website is an online community to link young people around the world with each other. It has partnered with Japan for Sustainability (JFS), a non-profit organization that provides information on sustainability-related developments and activities in Japan to 191 countries in the world, in order to help launch the website in both in English and Japanese. The website focuses on providing contents that help children around the world communicate with each other, in the hope of offering them a venue where they can build connections with each other while learning basic knowledge on the environment and society.
In the kickoff questionnaire, answers from 312 children in 23 countries were received in response to the question "What do you want to leave behind 100 years from now?" The most common answers dealt with rivers, mountains, or other natural environments and the animals that live there, as well as families, friends, and other close relationships. Some were about tragedies involving nuclear plants, nuclear bombs or the 9.11 terrorist attacks, peace, and a world without poverty, hunger or wars.
"In Japan, English has become an obligatory subject for students in the 5th grade and higher. On the other hand, fewer students are studying abroad. We hope to give the children opportunities to connect to the world at as early an age as possible, and inspire them to grow up just like Ms. Severn Cullis-Suzuki by telling adults what they learn through the website Miracle Miracle," Ito says. The Legendary Speech -- Severn Cullis-Suzuki
http://miracle-kids.net/en/miraclekids/2011/mks_id000066.html
Although insurance products are not visible, they are in fact "reliable products" that can support people in trouble, and give them a feeling of security. While working to strengthen connections and bonds with people through its insurance products, Nipponkoa contributes to creating an environment where people can live a better life.

Written by Reiko Aomame