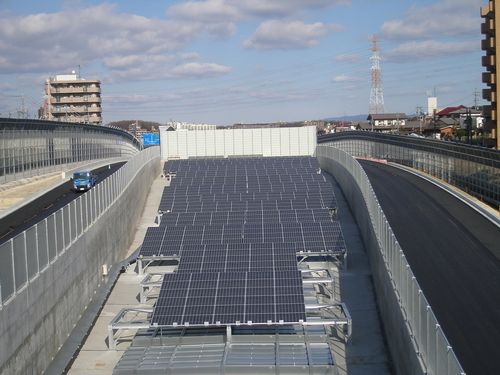 Copyright Kyocera Corp.

Kyocera Solar Corporation, a domestic sales subsidiary of Kyocera Corp., announced on June 10, 2011, that it has supplied about 9,500 photovoltaic (PV) modules to the Nagoya Daini-Kanjo Expressway (called "Mei-nikan") which is managed by Central Nippon Expressway Co. A total of approximately two megawatts of PV modules has been installed at three locations on the Ueda, Arimatsu and Narumi sections of the Mei-nikan. The total power output capacity will be the largest among PV systems installed on Japanese highways.
The PV system is expected to generate 2,180,000kWh annually, enough to power roughly 460 households. The generated power will cover part of the electricity required for lighting and operating toll gates, which amounts to approximately 40% of the annual energy consumption of the Mei-nikan (between Nagoya Minami and Takahari junctions), thereby contributing to energy conservation. Kyocera now has the largest share of PV systems on highways in Japan in terms of capacity.
Large-scale Photovoltaic Power System Starts Full Operational Testing in City of Hokuto (Related JFS article)
http://www.japanfs.org/en/pages/029791.html
Kyocera Supplies Solar Power Systems to 500 Non-Electrified Houses in Tunisia (Related JFS article)
http://www.japanfs.org/en/pages/027075.html
Kyocera to Increase Solar Cell Production to 500 MW (Related JFS article)
http://www.japanfs.org/en/pages/026758.html
Posted: 2011/10/05 06:00:15 AM