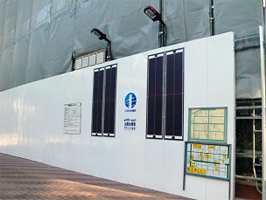 Copyright Sumitomo Mitsui Construction Co.
Sumitomo Mitsui Construction Co. and its subsidiary announced on February 9, 2011, that they have jointly developed a photovoltaic (PV) system integrated into construction hoardings. The newly developed system has solar cells and batteries mounted on the hoarding panels that are erected for safety around construction sites.
The system consists of thin-film amorphous silicon solar cells, lithium ion batteries and controllers all fitted on the widely used 500-mm-wide hoarding panels, thereby offering superior versatility. Combined with LED street lights, security lights or footlights, the system can provide illumination at night.
In addition, Kajima Corporation, another Japanese construction giant, announced on March 11, 2011, that it will actively pursue reductions in carbon dioxide emissions at construction sites by undertaking various approaches, represented in its Onsite Solar Project, an ongoing project started in fiscal 2010, in which PV panels are installed on the roofs of construction site offices and hoardings to cover part of office's electricity needs. Kajima is also promoting "visualization", incorporating an online system to observe real-time power generation and energy consumption rates in each area.

As PV systems have improved, their usage has become more practical, and more construction sites throughout Japan are becoming environmentally conscious by incorporating solar batteries in variety of ways, thereby reducing CO2 emissions.

The Future Is Closer Than You Think
http://www.japanfs.org/en/mailmagazine/newsletter/pages/030554.html
Japanese Construction Company Starts Using Solar Energy for Night Lighting (Related JFS article)
http://www.japanfs.org/en/pages/030559.html
Posted: 2011/07/27 06:00:15 AM